C5112 C5116 C5120 C5123 C5125 C5125 Vertical Lathe
| | | | | | | | |
| --- | --- | --- | --- | --- | --- | --- | --- |
| Specification | Unit | C5112D | C5116D | C5120D | C5123D | C5125D | C5126D |
| Table diameter | mm | 1000 | 1400 | 1800 | 2000 | 2250 | 2250 |
| Max. turning diameter | mm | 1250 | 1600 | 2000 | 2300 | 2500 | 2600 |
| Max. height of workpiece | mm | 1000 | 1000 | 1250 | 1350 | 1600 | 1600 |
| Max. weight of workpiece | T | 3.2 | 5 | 8 | 8 | 8 | 8 |
| Tool section size | mm | 30x40 | 40x40 | 40X40 | 40x40 | 40x40 | 40x40 |
| Max. Cutting force of vertical tool post | N | 25000 | 25000 | 25000 | 25000 | 25000 | 25000 |
| Max.torque of table | N·m | 25000 | 25000 | 32000 | 32000 | 32000 | 35000 |
| Table speed steps | | 16 | 16 | 16 | 16 | 16 | 16 |
| Table speed range | r/min | 6.3-200 | 5-160 | 3.2-100 | 3.2-100 | 2-63 | 2-62 |
| Vertical tool post feed range | | 12 | 12 | 12 | 12 | 12 | 18 |
| Vertical tool post feed steps | Mm/min | 0.8-86 | 0.8-86 | 0.8-86 | 0.8-86 | 0.8-86 | 0.2-145 |
| Max.travel of vertical tool post(horizontal) | mm | 750 | 915 | 1115 | 1300 | 1400 | 1450 |
| Max.travel of vertical tool post(vertical) | mm | 650 | 800 | 800 | 800 | 800 | 800 |
| Swivel angle of vertical tool post | ° | ±30° | ±30° | ±30° | ±30° | ±30° | ±30° |
| Side tool post travel(horizontal) | mm | 630 | 630 | 630 | 630 | 630 | 630 |
| Side tool post travel(vertical) | mm | 900 | 900 | 900 | 900 | 900 | 900 |
| Tool post rapid traverse | mm/min | 2000 | 1800 | 1550 | 1550 | 1550 | 1550 |
| Max.travel of cross beam | mm | 650 | 650 | 850 | 850 | 1250 | 1250 |
| Cross beam lifting speed | mm/min | 350 | 350 | 350 | 350 | 320 | 320 |
| Main motor power | Kw | 22 | 30 | 30 | 30 | 37 | 37 |
| Cross beam lifting motor power | Kw | 2.2 | 2.2 | 2.2 | 2.2 | 2.2 | 2.2 |
| Machine weight | T | 8.5 | 13 | 17 | 18 | 23 | 23 |
Product description:
C series vertical lathes are suitable for machining large-diameter shafts and disc parts, such as internal and external cylindrical surfaces, conical surfaces, arc surfaces, end surfaces, grooving, threading, drilling, reaming, boring, chamfering and other processes. Processing. High efficiency, good accuracy and stability, parts size, easy to operate. C series vertical CNC lathes can meet the precision machining requirements of single or batch products.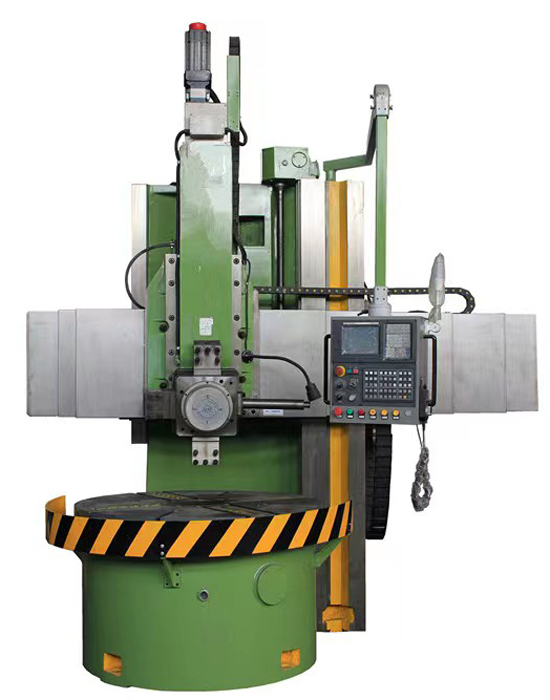 Get The Required Product Quotation As Quickly As Possible
If possible, Given detailed request helps to gain better-matched customized solution. Thanks for your patience. your request will be responsed within 1 hours, kindly pay attention to your email please.