FX-12S High Precision Centerless Grinder
ITEM
UNIT
FX-12S
1
Standard workbench working diameter
mm
¢ 0.5—40
2
Grinding wheel size (outer diameter x width x inner diameter)
mm
¢305x150x120
3
Adjust wheel size (outer diameter x width x inner diameter)
mm
¢205x150x¢90
4
Grinding wheel speed
rpm
1950
5
Adjust wheel speed
rpm
0-320
6
Wheel drive motor
kw
5.5
7
Adjusting wheel drive motor
kw
2.0
8
Hydraulic pump drive motor
kw
0.75
9
Cooling pump drive motor
kw
0.37
10
Adjust wheel feed hand wheel
mm
3.5mm / turn 0.02 / scale
11
Adjustment wheel fine adjustment hand wheel
mm
0.1mm/rev 0.001/scale
12
Worktable feed hand wheel
mm
7mm / turn 0.05 / scale
13
Workbench fine-tuning handwheel
mm
0.2mm/rev 0.001/scale
14
Trimming feed hand wheel
mm
1.5mm / turn 0.01 / scale
15
Adjust wheel tilt angle
degree
±5 – 3
16
Adjust the angle of rotation of the wheel
degree
±6
17
Mechanical Dimensions
mm
1800x1400x1450
18
Packing size
mm
2350x1650x1770
19
Mechanical weight
kg
1700
20
Packing weight
kg
1850
Product introduction
Centerless grinding machine is a type of grinding machine that does not need to use the axis of the workpiece for grinding. It is mainly composed of three mechanisms: grinding wheel, adjustment wheel and workpiece support. The grinding wheel actually performs the grinding work, and the adjustment wheel Control the rotation of the workpiece and control the feed speed of the workpiece. As for the workpiece holder, which supports the workpiece during grinding, there are several ways to cooperate with these three parts, except for stopping grinding, the principle is the same.
There are two main grinding methods for centerless cylindrical grinders: through type and plunge type; through type centerless grinder, the workpiece is fed along the axis of the grinding wheel for grinding, and the small inclination angle of the guide wheel axis is adjusted to realize the axial feed of the workpiece. It is suitable for grinding slender cylindrical workpieces, short shafts without central holes and sleeve workpieces. The plunge-type centerless grinding method is that there is an axial positioning fulcrum on the pallet, the workpiece is supported at a certain position on the pallet, and the grinding wheel or guide wheel is used for grinding. For grinding workpieces with shoulders or bosses as well as cones, spheres or other workpieces of revolution. "Plung-in" to "Through-through" centerless grinding is a composite grinding method of the two centerless grinding machines.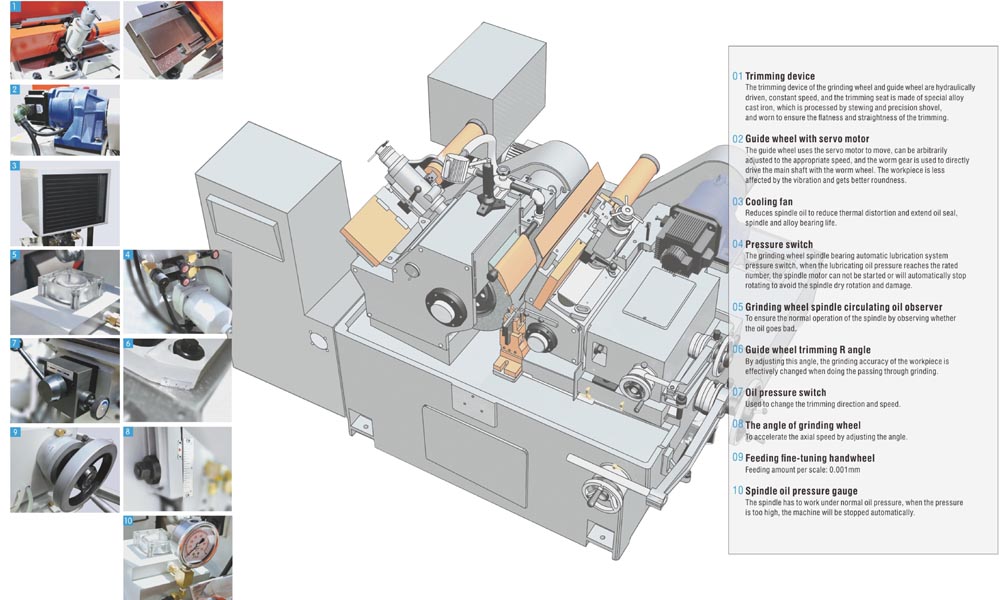 Standard Equipment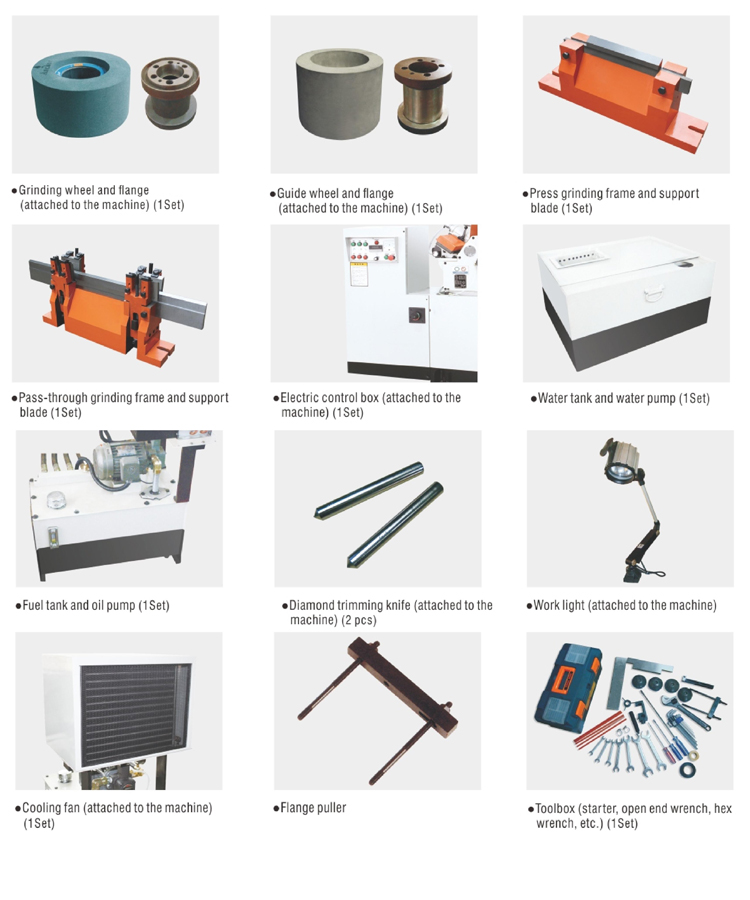 Optional Equipment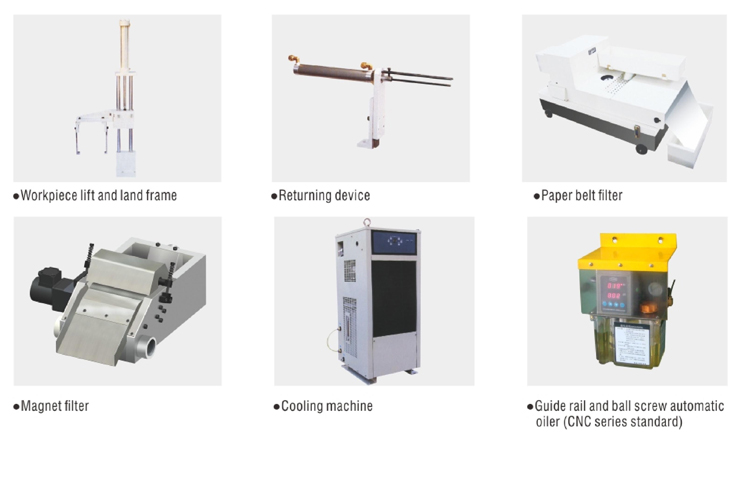 Get The Required Product Quotation As Quickly As Possible
If possible, Given detailed request helps to gain better-matched customized solution. Thanks for your patience. your request will be responsed within 1 hours, kindly pay attention to your email please.