Gantry Plasma Cutting Machine 2040 120A
Technical Parameter :
| | |
| --- | --- |
| Model | 2040 120A |
| X,Y working area | 2000*4000mm |
| Z working area | 300mm |
| Lathe bed | Very thick steel structure |
| Machine Power | 8.5kw |
| Working voltage | 380V/50HZ three phase |
| Reposition precision | 0.02mm |
| Processing precision | 0.1mm |
| Maximum cutting speed | 12000mm/min |
| plasma source | China LGK120A plasma source |
| plasma cutting | Max 25mm |
| Fire cutting | Max 300mm |
| Torch Height control mode | Automatic high sensitive THC |
| Control system | SJTU-CNC control system |
| Motors | China high-accuracy stepper motor |
| Software | Starcam |
| Weight | 1600 KGS |
| Plasma Air Pressure | Max.0.8Mpa |
| Working Temperature | -10°C-60°C. Relative Humidity, 0-95%. |
| flame cutting | 300mm |
Product Details
The painting: all our machine body have been processed by professional anti-rust treatment. First, we spray 2 times anti-rust paint to ensure that all parts of the machine in a fully protected state, and then spray color. This can effectively prevent the machine rust, resulting in damage to the machine. Other manufacturers do not take anti-rust treatment or only spay 1 time rust paint.
Software: our software have self-adjustment function. That means, when you put the metal sheets slide, the software will adjust the cutting according to metal sheets direction, so that it will protect the metal sheets and good cutting results. Especially when cut large or expensive metal sheets, this will preventing big loss. While other factory machine does not have this function.
Our machine support many languages, like English, Russia, Spanish etc. Then the clients can operate the machine more convenient.
When cutting many drawings, our software can automatically sort and achieve best combination, so that the machine can cut all drawings in shortest time.
We use super soft shielded cable to ensure that the plasma power supply does not affect the motor during working.
Just because our machine all equipped the professional parts, and test more seriously for the whole machine, so our guarantee period it is 2 years, while other factory it is only 1 years.
We will free provide 2G processing design, in the 2G processing design have thousand beautiful graphic, after you get the machine, you can let the machine do a lot of beautiful work, while no need find the engineer to help you to design.
Main Parts & Standard Equipment
Mechanical design heavy fuselage
2000*4000mm work area
China LGK120A plasma source
Flame cutting system
SJTU-CNC control system
Automatic torch height control
Starcam software
High precision Square guide rail
Rack and Gear transport system
China high-accuracy stepper motor
Planetary reducer
Detailed teaching video
Multi-function tool box
5 nozzle electrodes
8G U plates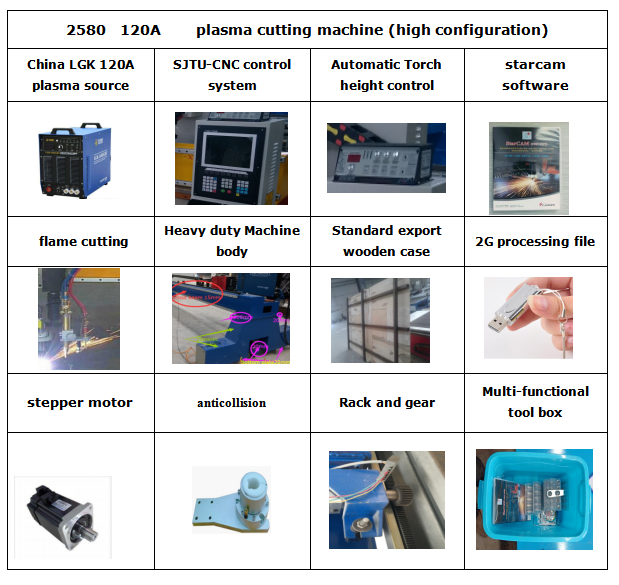 Get The Required Product Quotation As Quickly As Possible
If possible, Given detailed request helps to gain better-matched customized solution. Thanks for your patience. your request will be responsed within 1 hours, kindly pay attention to your email please.