Plasma Cutting Machine 2060 200A
Product Category
Laser Plasma Cutting Machine
Technical Parameter :
| | |
| --- | --- |
| Model | 2060  200A |
| X,Y working area | 2000*6000mm |
| Z working area | 150mm |
| Packing dimension | 6750*2260*730mm  3200*1400*1200mm |
| Lathe bed | Very thick steel structure |
| Machine Power | 8.5kw |
| Working voltage | 380V three phase 60hz |
| Reposition precision | 0.02mm |
| Processing precision | 0.1mm |
| Maximum cutting speed | 12000mm/min |
| Torch Height control mode | Automatic |
| Cutting thickness | Max 40mm carbon steel |
| Plasma power supply | China LGK 200A plasma source |
| Control system | STARfire |
| Motors | Stepper motor |
| Software | Starcam |
| Weight | 2200KG |
| Plasma Air Pressure | Max.0.8Mpa |
| Working Temperature | -10°C-60°C. Relative Humidity, 0-95%. |
| LCD Display Dimension | 7 Inches |
Product Details
We equipped the two fan for take the cutting smoke out from the room, front fan will blow to back, the back fan will exhaust the smoke out from the machine and out from the room. This way, will efficiency to let the workshop in the good environment. While other factory does not have this fan or only have one.
All our machines have to be checked three times, then allow to send out ,and finally will put one 8GB flash disk into the package, when the customer received the machine, can easy check the video from the 8GB flash disk ,then do the easy operation, in the video nearly like hand by hand do the teaching job, so can let the customer in the shot time to let the machine create the profit. While we also have the video platform, after you purchase the machine, we will give you one password, then you can easy to get the efficiency "after-sell service" from the internet. While other small factory usually, only check one time for the machine, and no 8GB flash disk, and no video platform, then it is hard for you to get the good after-sell service.
The painting: all our machine body have been processed by professional anti-rust treatment. First, we spray 2 times anti-rust paint to ensure that all parts of the machine in a fully protected state, and then spray color. This can effectively prevent the machine rust, resulting in damage to the machine. Other manufacturers do not take anti-rust treatment or only spay 1 time rust paint.
Just because our machine all equipped the professional parts, and test more seriously for the whole machine, so our guarantee period it is 2 years, while other factory it is only 1 years.
We will free provide 2G processing design (USD 320) and Australia professional metal cutting software for you, in the 2G processing design have thousand beautiful graphic, after you get the machine, you can let the machine do a lot of beautiful work, while no need find the engineer to help you to design.
Machine structure is designed by famous mechanical professor, to add many columns for each bean. So that the machine body can bear more weight for large, thick metal sheets without deforming. But some small factories will not add these parts for saving cost, their machine is easy to deform for thick metal.
Standard Equipment
Seamless welding machine body
2000*6000mm working area
China LGK 200A Plasma source
Independent control cabinet
STARfire control system
Automatic Torch height controller
Starcam software
2GB processing file
High precision square guide rail
High precision ball screw
China high precision stepper motor
Multi-function tool box
Efficiency exhaust smoke system
5 sets of nozzle electrodes
Easy feeding slide material system
High quality soft electricity cable can be bend for 1.5 million times
All the necessary parts for machine working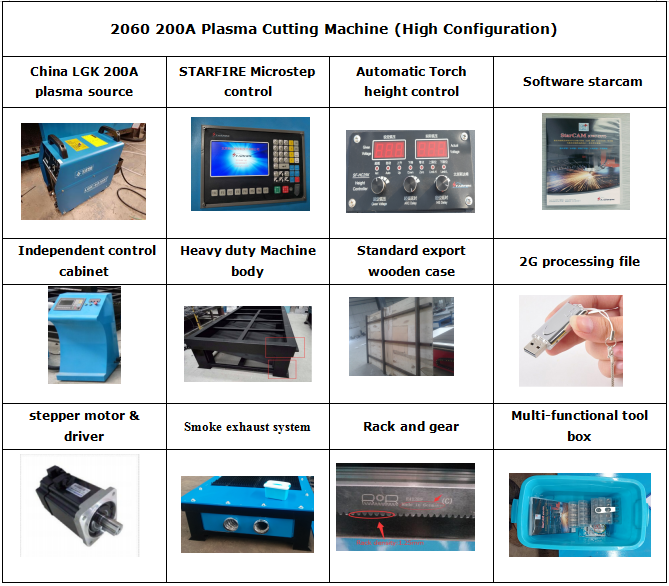 Get The Required Product Quotation As Quickly As Possible
If possible, Given detailed request helps to gain better-matched customized solution. Thanks for your patience. your request will be responsed within 1 hours, kindly pay attention to your email please.