SG Series Column Moving Surface Grinder
Product Category
Drill mill boring tapping machine
SG Series Column Moving Surface Grinder
Warranty : 1 Year for machinery warranty
Availability : On Stock
Email : contact@antsmachine.com
(your request will be responsed within 1 hour.)
Product description :
◆The machine bed, slide seat, column, grinding head body, table and other basic parts are all made of high strength cast iron, stable organization and permanent guarantee of quality.
◆The spindle of the grinding head is made of static and static pressure structure and high rigid spindle sleeve structure.
◆The machine adopts high precision lead screw, which increases the transmission rigidity and eliminates the influence of thermal deformation during movement, ensuring the accuracy of the machine.
◆The working table moves from side to side driven by the variable vane pump and adopts the closed hydraulic system, whose speed is stepless regulated by the regulating handle on the bed body .
◆The machine adopts ttype layout, and the guide rail is attached with teflon soft belt, which has good directivity and stable movement.
The machine has strong rigidity, small thermal deformation, stable movement, low noise, low oil tank temperature rise, high grinding accuracy and convenient maintenance.
◆The electrical box is equipped with a heat exchanger, which can effectively control the temperature in the electrical box and ensure the long-term stable operation of the control system.
Model
Unit
SG2050NC2
SG2550NC2
SG3063NC2
SG30100NC2
SG4080NC2
SG40100NC2
Description
SG2050NC3
SG2550NC3
SG3063NC3
SG30100NC3
SG4080NC3
SG40100NC3
Table size ( WxL )
mm
200×460
254x 508
305×635
305×1020
406×813
406×1020
Max. longitudinal travel
mm
510
570
765
1130
910
1130
Cross tranal
mm
238
275
340
340
450
450
Max. distance from spindle center to table
mm
450
450
580
580
580
580
Magnetic chuck size
mm
200×460
250x 500
300x 600
300×1000
400*800
400x 1000
Table vertical movement speed
m/min
5-25 ( NC2 model) ; 0.02-15 (NC3 model )
Table vertical movement Feed of handwheel
mm/div.
0.005 ( NC3 model )
Table transverse movement Auto feed
mm/stroke
0.005-12
Table transverse movement Rapid speed
m/min
0-1
Table transverse movement Feed of handwheel
mm/div.
0.005
Wheehead vertical movement Auto feed
mm/stroke
0.001-0.05
Wheelhead vertical movement Rapid speed
m/min
0-1
Wheelhead vertical movement Feed of handwheel
mm/div.
0.001
Grinding whee Speed

Grinding whee (ODxWxID) Size

rpm
50Hz 2850
50Hz 1450
60Hz 3450
60Hz 1750
Grinding whee Speed
mm
200x20x3175
350x40x127
Spindle motor
kw
1.5
2.2
5.5
Hydranlic motor
kw
0.75 ( NC2 model )
22( NC2 model )
Cooling pump motor
kW
0.04
0.125
Paraleism of machined surface to daturm plane
mm
300:0.005
Machined surface roughness
um
Ras0.63
Max. loading capacity of table ( include magnetic chuck)
kg
120
180
270
400
500
600
Height of machine
mm
1675
1890
Floor space (LxW)
mm
2050×1400
2300x 1600
2900x 2200
2900x 2200
3600x 2400
4400x 2400
Gross weight
kg
1600
1800
2800
2800
3800
4300
Package dimensions LxWxH
mm
1780x1500x2155
2000x2100x2150
2350x2220x2150
2350x2220x2150
2850x2270x2180
2950x 2270×2150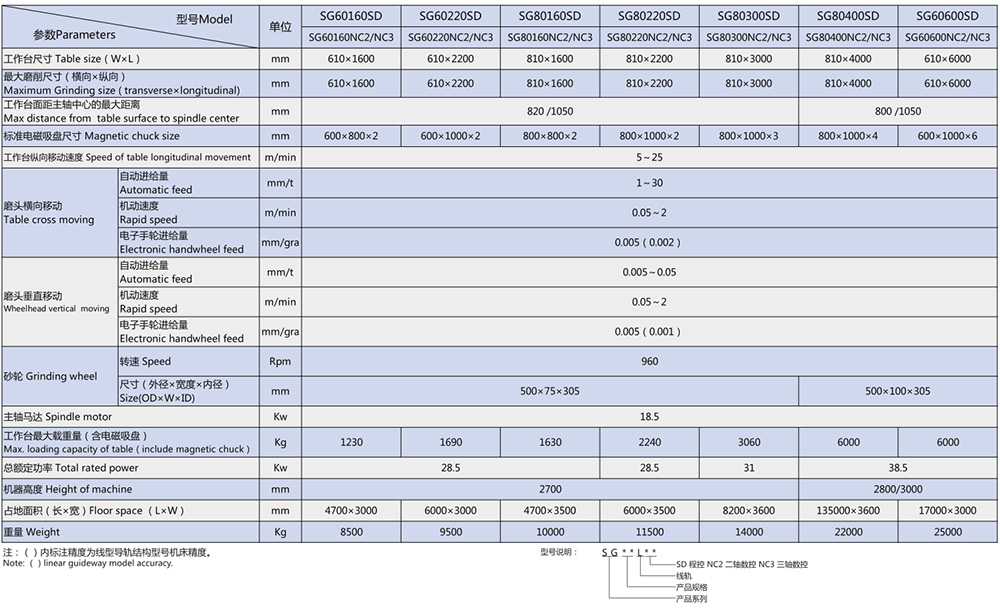 Get The Required Product Quotation As Quickly As Possible
If possible, Given detailed request helps to gain better-matched customized solution. Thanks for your patience. your request will be responsed within 1 hours, kindly pay attention to your email please.