High-efficiency fast wire cutting EDM machine
| | | | | | | | |
| --- | --- | --- | --- | --- | --- | --- | --- |
| Technical Specifications | Model | Unit | DK7720 | DK7735 | DK7745 | DK7750 | DK7763 | DK7780 |
| Machine Type | – | High-Speed-WEDM | High-Speed-WEDM | High-Speed-WEDM | High-Speed-WEDM | High-Speed-WEDM | High-Speed-WEDM |
| Guide | – | Inlaid steel rails | Inlaid steel rails | Inlaid steel rails | Inlaid steel rails | Inlaid steel rails | Inlaid steel rails |
| Screws Form | – | Ball screw | Ball screw | Ball screw | Ball screw | Ball screw | Ball screw |
| Table size | mm | 400*500 | 470*710 | 570*800 | 650*1000 | 760*1150 | 1050*1400 |
| Table travel | mm | 200*250 | 350*450 | 450*550 | 500*630 | 630*800 | 800*1000 |
| Max. cutting thickness (height adjustable) | mm | 500 | 400 | 500 | 600 | 500 | 500 |
| Total machine power | kw | 2.5 | 2.5 | 2.5 | 2.5 | 2.5 | 2.5 |
| Machining Surface Roughness | μm | Ra≤2. 5 | Ra≤2. 5 | Ra≤2. 5 | Ra≤2. 5 | Ra≤2. 5 | Ra≤2. 5 |
| Max. cutting speed | mm²/h | 8000-10000 | 8000-10000 | 8000-10000 | 8000-10000 | 8000-10000 | 8000-10000 |
| Max. cutting taper | mm | ±6°/80mm | ±6°/80mm | ±6°/80mm | ±6°/80mm | ±6°/80mm | ±6°/80mm |
| Molybdenum wire diameter | m | Φ0.13—Φ0.20 | Φ0.13—Φ0.20 | Φ0.13—Φ0.20 | Φ0.13—Φ0.20 | Φ0.13—Φ0.20 | Φ0.13—Φ0.20 |
| Wire travel speed | m/s | 11.5 | 11.5 | 11.5 | 11.5 | 11.5 | 11.5 |
| Min. feed increment | mm | 0.001 | 0.001 | 0.001 | 0.001 | 0.001 | 0.001 |
| Pulse width adjustable range | μs | 15-150 | 15-150 | 15-150 | 15-150 | 15-150 | 15-150 |
| Max. power consumption | KVA | ≤1 | ≤1 | ≤1 | ≤1 | ≤1 | ≤1 |
| Motor type | – | Reactive Stepper Motor | Reactive Stepper Motor | Reactive Stepper Motor | Reactive Stepper Motor | Reactive Stepper Motor | Reactive Stepper Motor |
| Motor inverter speed regulation | m/s | 1~12 m/s | 1~12 m/s | 1~12 m/s | 1~12 m/s | 1~12 m/s | 1~12 m/s |
| Machine protection | – | Environmental protection | Environmental protection | Environmental protection | Environmental protection | Environmental protection | Environmental protection |
| Motion axis motion resolution | mm | 0.001 | 0.001mm | 0.001mm | 0.001mm | 0.001mm | 0.001mm |
| U, V axis travel | mm | ±35×±35 | ±35×±35mm | ±35×±35mm | ±35×±35mm | ±35×±35mm | ±35×±35mm |
| Control Method | – | 4-axis linkage | 4-axis linkage | 4-axis linkage | 4-axis linkage | 4-axis linkage | 4-axis linkage |
| Large load capacity | kg | 100kg | 160kg | 450kg | 450kg | 950kg | 1000kg |
| Production Criteria (Acceptance Criteria) | – | GB7926-87 | GB7926-87 | GB7926-87 | GB7926-87 | GB7926-87 | GB7926-87 |
| Machine dimensions | mm | 1500x1000x1700 | 1650x1250x1700 | 1900x1300x1800 | 2400x2250x1650 | 1800*1400*1700 | 1800*1400*1700 |
| Machine weight | kg | 900 | 1200 | 1700 | 2300 | 2800 | 6000 |
Taking use of EDM machines, you can work on hard and difficult-to-machine materials in a precise and economical way. Use a wire cut EDM machine or die sinking EDM machine to produce and forge dies, injection moulds or die-casting moulds from graphite, electrically conductive ceramics and metals and their alloys. For this purpose,ANTISHI offers you both the EDM machine for beginners and the CNC EDM machine, featuring a high speed wire with complex application possibilities, high removal rate and low electrode wear.
Product Advantages:
1. High-quality castings and timely treatment
Casting grade: HT200
Casting aging treatment: artificial aging and natural aging
Casting – artificial aging – rough planing – natural aging (more than half a year) – high frequency vibration aging – machining – assembly of castings treated in this way to ensure the stability of the performance of the main basic parts of this machine tool.
2. The main accessories are all well-known domestic and foreign manufacturers, and the accessories selected by Shanghai ANTISHI are always high-quality and advanced.
3. There are high-precision key equipment. Our company's key equipment is important to our company.
The parallelism and flatness of the upper and lower carriages of the key parts, the accuracy of the bearing holes of the gear box and the bearing seat, the accuracy of the upper and lower arm guide wheel seat holes, and the verticality of the nut seat mounting surface have played a very good role in ensuring.
Standard Equipment
Precision Ball Guide
Table ball screw (material GCr15)
Capstan
Table ball screw bearing D246205/P5 (pair supply)
Wire bearing D246202/P5, guide wheel bearing D24/P5
Inverter
AC contactor 3TB4044-9A110V
Intermediate relay 3TH8262 110V 50HZ
Optional Equipment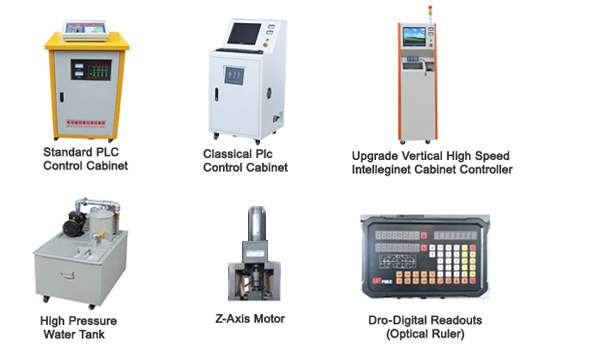 Consumable Spare Parts
Molybdenum Wire
Capstan
Wire wheel
Conductive block
Wire stopper
Timing belt: National unified code 206XL
Get The Required Product Quotation As Quickly As Possible
If possible, Given detailed request helps to gain better-matched customized solution. Thanks for your patience. your request will be responsed within 1 hours, kindly pay attention to your email please.