FX27P-60CNC High Precision CNC Cylindrical Grinder
ITEM
Unit
Machine Model:

FX27P-60CNC

Processing Capability
Maximum rotating diameter of worktable
mm
270
The longest distance between two thimble
mm
600
Maximum grinding diameter
mm
270
Maximum load between two top centers
Kg(b)
60(Centers work)

20(Work head work)

Grinding wheel size (diameter × width × aperture)
mm
405×38(32-50)×127
Wheel speed
rpm
1650
Maximum linear speed of grinding wheel
m/s
35(65 with High speed grinding wheel)
Wheel dressing
mm
Automatic
Wheel head
Feed angle
Deg
90
Feed stroke
mm
220
X axis feed speed
m/min
6
X axis minimum feed
mm
0.001
Head stock
Spindle speed
rpm
50-500
Spindle form
Simultaneous movement or centering
Thimble specifications
MT-5
Tailstock
Automatic telescopic distance
mm
40
Center specifications
MT-4
Workbench
Z axis fast moving speed
m/min
8
Z axis minimum feed
mm
0.001
Maximum travel stroke
mm
640
Rotation angle
Deg
+7/-3
Motor
Wheel spindle motor
KW
3.75
X axis feed motor (servo)
KW
1.5
Z axis feed motor (servo)
KW
1.5
Headstock spindle motor
KW
0.75
Cooling water pump motor
KW
0.75
Lubricating oil motor
KW
0.25*2
Tailstock oil pump motor
KW
0.75
Others
Machine net weight
Kg
3300
Gross weight
Kg
3500
Packing size (length * width * height)
mm
2700*2000*2000
Product description :
●The grinding wheel dressing device can be selected to achieve precise CNC dressing, adapting to the ordinary outer circular surface, tapered surface, forming outer circular surface, R surface and groove grinding.
●The imported or domestic online measuring device is configured to realize the full closed-loop control of the grinding process.
●Comprehensive control capabilities such as fault self-diagnosis and abnormal alarm
● A robotic automation system can be added to achieve fully automated flow.
A、Straight Grinding
In small production, the automatic feed is combined with the non-sparking timer for good grinding quality. In the case of mass production, the automatic outer diameter measuring device (special accessory) is installed to provide the best output and grinding effect (CNC model)
B、Cross-grinding
The automatic intermittent feed and hydraulically driven table allow the workpiece to be effectively ground.
C、Face Grinding
Remove the rotating cover of the working spindle head and replace it with a three-jaw or four-jaw chuck. Change the position of the positioning tip to rotate the chuck and fix it at 90 degrees for end grinding.
D、Shoulder Grinding
When the outer diameter of the workpiece and its shoulder need to be finished once, the workpiece is supported by two centerings and the grinding wheel is modified to the right of the grinding wheel head and rotated at an angle to grind.
E、Slope Grinding
The work object can be supported by the chuck or the two centerings, and the work bench and the grinding wheel head can be rotated and adjusted easily
F、Inner Diameter Grinding
Grinding the inner diameter of the inner diameter grinding attachment (special accessory), as long as the inner diameter grinding spindle is pulled down and fxed in the grinding position, it can be ground.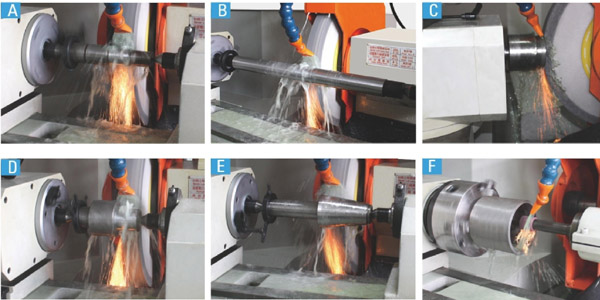 Optional Equipment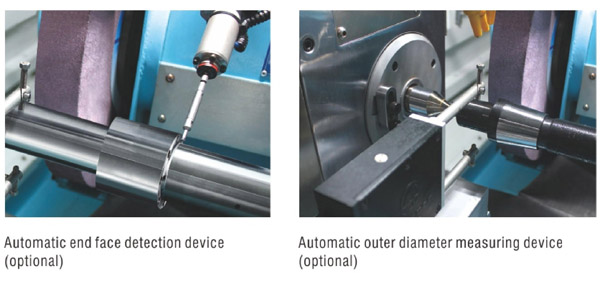 Get The Required Product Quotation As Quickly As Possible
If possible, Given detailed request helps to gain better-matched customized solution. Thanks for your patience. your request will be responsed within 1 hours, kindly pay attention to your email please.