Straight feed CNC Cylindrical Grinding Machine with Truss Manipulator
Product Category
Laser Plasma Cutting Machine
Straight feed CNC Cylindrical Grinding Machine with Truss Manipulator
Warranty : 1 Year for machinery warranty
Availability : On Stock
WhatsApp : +86-19534031668
Wechat : +86-19534031668
Email : contact@antsmachine.com
(your request will be responsed within 1 hour.)
Technical Parameter :
ITEM
Unit
Machine Model:

FX27P-60CNC

Processing Capability
Maximum rotating diameter of worktable
mm
270
The longest distance between two thimble
mm
600
Maximum grinding diameter
mm
270
Maximum load between two top centers
Kg(b)
60(Centers work)

20(Work head work)

Grinding wheel size (diameter × width × aperture)
mm
405×38(32-50)×127
Wheel speed
rpm
1650
Maximum linear speed of grinding wheel
m/s
35(65 with High speed grinding wheel)
Wheel dressing
mm
Automatic
Wheel head
Feed angle
Deg
90
Feed stroke
mm
220
X axis feed speed
m/min
6
X axis minimum feed
mm
0.001
Head stock
Spindle speed
rpm
50-500
Spindle form
Simultaneous movement or centering
Thimble specifications
MT-5
Tailstock
Automatic telescopic distance
mm
40
Center specifications
MT-4
Workbench
Z axis fast moving speed
m/min
8
Z axis minimum feed
mm
0.001
Maximum travel stroke
mm
640
Rotation angle
Deg
+7/-3
Motor
Wheel spindle motor
KW
3.75
X axis feed motor (servo)
KW
1.5
Z axis feed motor (servo)
KW
1.5
Headstock spindle motor
KW
0.75
Cooling water pump motor
KW
0.75
Lubricating oil motor
KW
0.25*2
Tailstock oil pump motor
KW
0.75
Others
Machine net weight
Kg
3300
Gross weight
Kg
3500
Packing size (length * width * height)
mm
2700*2000*2000
Product Detail
FX27P-60CNC high precision straight feed cylindrical grinding machine is full cover type, with the truss manipulator. It reclaims and unloads the material automatically.
The grinding machine equipped with active measuring device to realize full closed-loop control of grinding process.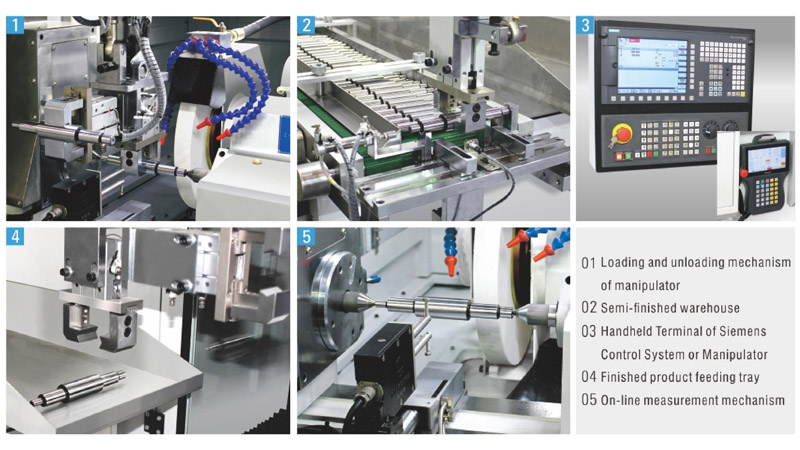 Features :
●This equipment is a fully automatic CNC machining form integrating external cylindrical grinding machine and a robot. It can automatically load and unload in the grinding process, realize one-person multi-machine management mode, minimize labor cost and realize the establishment of industrial production line.
●The Siemens system controls the whole machine operation, including online measurement, and abnormal warning. The robot system can adapt to the processing of work-pieces of different shapes, it can effectively control the precision and consistency of the work-piece.
●The 90-degree rotary robot minimizes the cumbersome loading and unloading, redundant movements, and full monitoring of the work-piece to prevent the product from colliding with the machine and ensuring the safety of the operator.
●The overall structure of the grinding system is compact, maximizing the use of workshop space and excellent overall cost performance.
Optional Equipment
1.  Inner hole grinding device
2.  Outer diameter online automatic measuring instrument
3.  End face online automatic measuring instrument
4.  Magnet + paper belt filter
5.  Full cover sheet metal
6.  Roller sand repairing device

Get The Required Product Quotation As Quickly As Possible
If possible, Given detailed request helps to gain better-matched customized solution. Thanks for your patience. your request will be responsed within 1 hours, kindly pay attention to your email please.