HLC Series Horizontal Machining Center
Model

Parameters

HLC500
HLC500S
HLC630
HLC630S
Table Size (mm)
500x6C0
500×600
630×630
630×700
Max Loading Weight (kg)
500
600
1500
950
Table dividing (°)
1°x360/0. .001°

continuous

1°x360/0. .001°

continuous

1°x360/0. .001°

continuous

1°x360/0. .001°

continuous

Number-width x distance (mm)
6x14x80
6x14x80
5x18x125
5x18x125
XY/Z Travel (mm)
800/600/600
800/6201600
1000/800/900
1050/750/900
Rapid speed(X /Y /Z) m/min
20/15/20
20/15/20
20/15/20
20/15/20
X Y Z cutting speed (mm/min)
1-8000
1-8000
1-8000
1-8000
Spindle center line to table surface (mm)
50-650
40-640
0-800
120-870
Spindle nose to table center  (mm)
150-750
185~785(BT40)

158-758(BT50)

200~1100
130~1030
Spindle speed  ( rpm )
6000
6000/8000
6000
6000
Spindle power ( kw)
11/15
11/15
15/18.5
15/18.5
Tool holder type
BT50
BT50
BT50
BT5O
Pull stud
BT50~45°
BT40-45°

BT50~45°

BT50-45°
BT50-45°
ATC capacity hold
24;32/40
24;32/40
24;32/40
24;32/40
Tool change time ( s )
3.5
3.5
3.5
3.5
Max tool weight (kg)
25
25
25
25
Max diameter of tool (mm)
Φ110/Φ220
Φ110/Φ220
Φ110/Φ220
Φ110/Φ220
Air pressure (MPa)
0.6~0.8
0.6~0.8
0.6~0.8
0.6~0.8
Machine weight (kg)
10800
121500
13000
13500
Machine overall size ( L x W x H ) mm
3800x 3000x 3020
3800x 2800x 2900
4300x 3150x 3800
4300x 3150x 3600
HLC800
HLC1000
HLC1000S
HLC1250
HLC1500
800×800
1000×1000
1000×1000
1250×1250
1500×1500
2000/3000
5000
1500
7000/5000
8000
1°x360/0. .001°

continuous

1°x360/0. .001°

continuous

1°x360/0. .001°

continuous

1°x360/0. .001°

continuous

1°x360/0. .001°

continuous

5x22x160
7x22x130
7x22x130
7x22x150
5x28x275
1200/900/900
1800/1400/1400
1600/1000/1000
1800/1400/1400
2500/1500/2000
20/15/20
16/12/16
16/12/16
16/12/16
9/9/9
1-8000
1-~5000
1-5000
1-5000
1-5000
0-900
0~1400
120~1120
0~1400
50~1550
200~1100
250~1650
200~1200
250~1650
610~2610
6000
6000
6000
6000
6000
15/18.5
18.5/22
18.5/22
18.5/22
18.5/22
BT50
BT50
BT50
BT50
BT50
BT50~45°
BT50~45°
BT50~45°
BT50~45°
BT50~45°
24;32/40
30;3240
30;3240
30;3240
30;3240
3.5
7.5
7.5
7.5
7.5
25
25
25
25
25
Φ110/Φ220
Φ125/Φ240
Φ125/Φ240
Φ125/Φ240
Φ125/Φ240
0.6~0.8
0.6~0.8
0.6~0.8
0.6~0.8
0.6~0.8
14000
26000
20000
28000
34000
4300x3150x3900
7400x 5900x 3820
6400x 5500x 3820
7400x5900x 3820
8200x6900x5000
Model

Parameters

HLC630SAPC
HLC630APC
Table Size (mm)
630×700
630×630
Table gty
2
2
Table dividing type (°)
1°x360/0.001°
1°x360/0.001°
Max Loading Weight (kg)
950×2
800×2
Number-width x distance (mm)
5x18x125
5x18x125
Max workpiece size (mm)
Φ960×800
Φ1000×900
3 axis travel(X/Y/Z) (mm)
1050/750/900
1100/800/1100
3axis feeding speed(m/min)
20
24
Spindle center line to table surface (mm)
0~750
50~850
Spindle nose to table center (mm)
130~1030
125~1225
Spindie taper
BT50
BT50
Max. spindle speed (R/MIN)
6000
6000
Main motor power (KW)
15/18.5
15/18.5
ATC Type, Tool capacity
disc type 30T(optional: chain type 32T/40T)
3 aixs positioning accuracy/Repeated positioning accuracy (mm)
0.018/0.010
0.015/0.008
Table dividing accuracy/Repeated accuracy
15/5
10/3
Product Features:
HLC series The base, column, slide, and headstock of this machine tool are made of high-quality cast iron HT300. The main foundation is designed with dense tendons for large sections, and finite element analysis is used to ensure high bending and torsional rigidity, so that it has a high natural frequency and improved vibration resistance.
The three-axis linear guide rail meets technical performance for high speeds. And high precision requirements. After secondary aging treatment, internal stress is eliminated. It has the characteristics of good overall rigidity, good vibration absorption and seismic performance.
It is widely used in the processing of box parts, shell parts, and disc-shaped parts in the military, automobile, mold, and machinery manufacturing industries. After a single clamping, the parts can be processed in multiple processes such as milling, boring, drilling, expanding, reaming, tapping, etc., with high precision, high automation, high reliability, high degree of mechanical and electrical integration, simple operation, beautiful overall appearance .
Product Description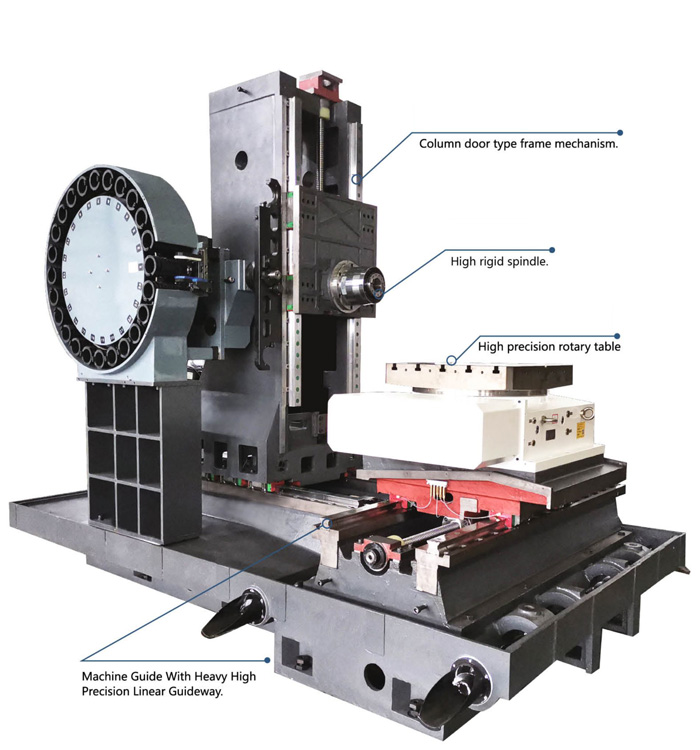 HLC series horizontal machining center as a whole continued HC500A, HC630A, HC800A hard rails lying machine tool structure, using inverted T shape structure, one-piece base, before bed one-piece structure with the base, the linear coordinate guide rail are overloaded high precision roller contour line, the high speed machine tool feed ltte vibration, low speed feed without crawling, can carry heavy load cutting, and has a high precision stability and dynamic response.
The machine can choose FANUC and Siemens system, rotary table, ATC, spindle, rail, screw are Taiwan brands.
STANDARD AND OPTIONAL ACCESSORIES
Number
Standard Configuration
Number
Special Configuration
1
24 tool ATC
1
32 Arm chian type ATC
2
Spindle air curtain dust control system
2
40 Arm chian type ATC
3
Workpiece cooling system
3
Central outlet of spindle (equipped with high pressure cooling device)
4
Equal division CNC rotary table
4
ZF gearbox drive
5
Automatic lubrication system
5
Spindle oil cooling device
6
Spiral chip removal device
6
Arbitrary indexing CNC rotary table
7
Chain-plate type chip lifter
7
Scraper lift chip remover
8
Integral shield
8
3 axis linear scale
9
The toolkit
9
Tool detection device
10
Anchor bolt and pad iron
10
Workpiece detection device
11
Door opening protection (door protection)
12
Portable chip air gun
13
Machine cleaning water tank
14
Simple oil and water separator
Get The Required Product Quotation As Quickly As Possible
If possible, Given detailed request helps to gain better-matched customized solution. Thanks for your patience. your request will be responsed within 1 hours, kindly pay attention to your email please.