APC Series Automatic Pallet Changer Horizontal Machine Center
Model

Parameters

Unit
HMC500APC
HMC630APC
HMC630SAPC
HMC800APC
Processing

capacity

Column travel ( X axis )
mm
800
1050
1050
1400
Spindle travel (Y axis )
mm
750
900
750
950
Table travel ( Z axis )
mm
850
1000
900
1370
Distance from pallet surface to spindle center
mm
100-850
100-1000
130-1030
100-1050
Distance from pallet center to spindle gauge plane
mm
100-950
140-1160
0-750
150-1420
Processing

capacity

X axis rapid speed
mm/min
48000
36000
20000
36000
Y axis rapid speed
mm/min
48000
36000
20000
36000
Z axis rapid speed
mm/min
48000
36000
20000
36000
X/Y/Z axis cutting speed
mm/min
20000
20000
10000
20000
Pallet
Table size
mm
500*500
630×630
630x 700
800x 800
Table no.
2
2
2
2
Table dividing type
。
1( 0.001 )
1( 0.001 )
1( 0.001 )
1( 0.001 )
Table max loading weight
kg
500
1200
950
2000
Tale T slot sie(N0,Width Distance)
mm
14x5x 100
18x5x125
5x18x125
22x5x 160
Change time
sec
15
16
20
18
Pallet
Spindle taper
ISO50
ISO50
ISO50
ISO50
Spindle motor
kW
11/15
15/18.5
15/18.5
18.5/22
Spindle speed
rpm
20-6000
20-6000
20-6000
20-6000
Spindle max torquel(continuous/30min)
Nm
140/191
249/307
249/307
520/619
Pull-stud
MAS403 P50T-1
MAS403 P50T-1
MAS403 P50T-1
MAS403 P50T-1
Accuracy
X/ Y/Z positioning accuracy
mm
0.01
0.01
0.018
0.01
X/Y/ Z repeated accuracy
mm
0.006
0.008
0.01
0.008
B positioning accuracy
"
±4(±15)
±4(+15)
±15
±4(±15)
B repeated accuracy
"
±1(±6)
±1(±6)
±4
±1(±6)
ATC
Capacity
T
40/60
40/60
32/40
40/60
Max tool diameter
mm
Φ125/250
Φ125/250
Φ125/250
Φ125/250
Max tool length
mm
400
400
300
400
Max tool weight
kg
25
25
18
25
Change time
sec
3.5
3.5
4.5
3.5
Others
Total power
kw
40
50
45
50
Machine overall size(L*W*H)
mm
6700x4200x3350
7600x4200x3650
6500x4100x3450
8400x 5000×3850
Machine weight
kg
16000
22000
16000
26000
Product Features:
HMC series is a horizontal machining center designed and developed by the company on the basis of absorbing advanced machine tool design concepts at home and abroad.
This machine adopts T type bed structure design, adopts high rigid roller linear guideway, the guide way span is large, the machine overall rigidity is good, the bearing capacity is strong; Equipped with a rotary double exchange table, the exchange time is short, the table exchange positioning accuracy is high; Machine in processing parts at the same time can carry out the next spare parts of the damping, saving the damping time, improve the work efficiency;
The machine is especially suitable for batch processing of large and medium-sized box polyhedron parts. It can complete milling, boring, drilling, tapping and other processes in one time,greatly improving the processing eficiency.
Product Description :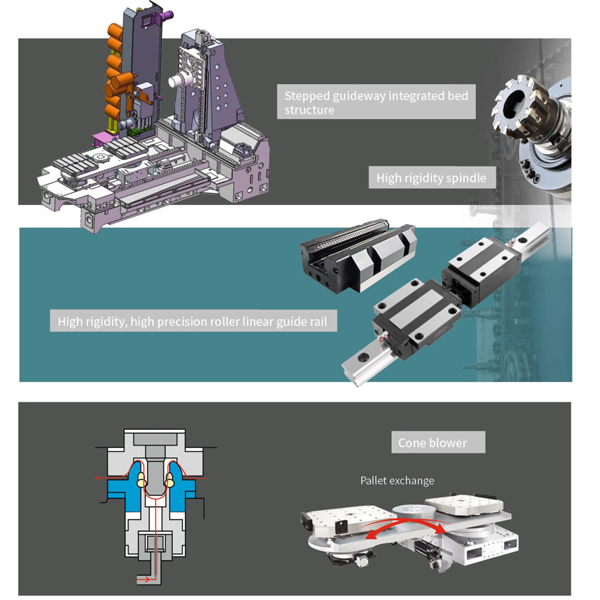 STANDARD AND OPTIONAL ACCESSORIES
Number
Standard Configuration
Number
Special Configuration
1
24 tool ATC
1
32 Arm chian type ATC
2
Spindle air curtain dust control system
2
40 Arm chian type ATC
3
Workpiece cooling system
3
Central outlet of spindle (equipped with high pressure cooling device)
4
Equal division CNC rotary table
4
ZF gearbox drive
5
Automatic lubrication system
5
Spindle oil cooling device
6
Spiral chip removal device
6
Arbitrary indexing CNC rotary table
7
Chain-plate type chip lifter
7
Scraper lift chip remover
8
Integral shield
8
3 axis linear scale
9
The toolkit
9
Tool detection device
10
Anchor bolt and pad iron
10
Workpiece detection device
11
Door opening protection (door protection)
12
Portable chip air gun
13
Machine cleaning water tank
14
Simple oil and water separator
Get The Required Product Quotation As Quickly As Possible
If possible, Given detailed request helps to gain better-matched customized solution. Thanks for your patience. your request will be responsed within 1 hours, kindly pay attention to your email please.