X6132 X6140 Horizontal lifting table milling machine
Specifications
Units
X6132
X6132B
X6132BH
X6140
Table size
mm(")
1325×320
(52×13)
1600×320
(63×13)
1600×320
(63×13)
1700×400
2000×400(option) 2200×400(option)
Table load
kg
500
500
500
800
Table travel
mm
700/680
255/240
320/300
900/880
255/240
320/300
900/880
255/240
410/390
900/880
315/300
350/330
T slot (number-width*pitch)
mm
3-18*70
3-18*70
3-18*70
3-18*90
Table feed range
mm /min
XY:23.5-1180
Z:8-394
XY:23.5-1180
Z:8-394
XY:23.5-1180
Z:8-394
XY:23.5-1180
Z:8-394
Table rapid traverse
mm /min
XY:2300
Z:770
XY:2300
Z:770
XY:2300
Z:770
XY:2300
Z:770
Spindle taper
_ _
ISO50 7:24
ISO50 7:24
ISO50 7:24
ISO50 7:24
Spindle speed range
RPM(Steps)
30-1500
(18 steps)
30-1500
(18 steps)
30-1500
(18 steps)
30-1500
(18 steps)
Swivel angle of table
°
±45
±45
±45
±45
Distance between spindle axis and table surface
mm
30-350
30-350
30-440
30-380
Main motor power
kw
7.5
7.5
7.5
11
Feed motor power
kw
2.2
3
3
3
Machine weight
kg
2700/3000
2800/3100
2900/3200
3950/4200
overall dimension
mm
2300*1770*1700
2600*1770*1700
2600*1770*1900
2600*1770*1900
Product Detail
This series of universal lift table milling machine is easy to operate and has reliable performance. It is widely used in various machining departments to process various planes, grooves, gears, etc. Equipped with milling machine accessories such as universal milling head, circular table, indexing head, etc., it can further expand the use range of the machine tool.
Features
1. Robust construction and heavy duty design.
2.The main driving parts are made of alloy steel.
3.Relatively moving parts between machine body and guide rail is PVC laminating treated.
4.Sufficient power and large speed range which make full use of the efficiency of tools.
5.Can be equipped with hard alloy tools to mill with fast speed.
6. The spindle is equipped with impulse device for easier speed adjustment.
7.Universal milling head,round working table,dividing head and DRO are for option.
Standard Equipment
End mill mandrel
Mandrel wrench
Morse taper intermediate sleeve
Milling machine tie rod
Various wrenches
Oil gun
Anchor screw
Block gasket
Tool holder assembly
Optional Equipment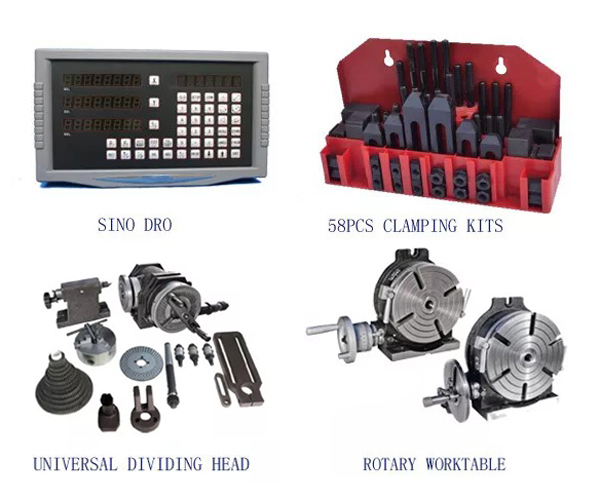 Get The Required Product Quotation As Quickly As Possible
If possible, Given detailed request helps to gain better-matched customized solution. Thanks for your patience. your request will be responsed within 1 hours, kindly pay attention to your email please.