Horizontal Mitre Band Saw Machine BS-1018B
Product Category
Laser Plasma Cutting Machine
Technical Parameter :
Model
BS-1018B
Machining capacity
Round steel@90°
254mm(10″)
Square steel@90°
127×457mm(5″×18″)
Round steel@45°
150mm(6")
Square steel@45°
150×190mm(6″×7.5″)
Saw cutting speeds
@ 60HZ
35,60,88,115MPM
@ 50HZ
29,50,73,95MPM
Saw blade size
27×0.9×3280mm
Motor power
1.5W 2HP(3PH)
Drive
V-belt
Package size
1830×830×1150MM
NW/GW
310/385kg
For high precision metal cutting, is the ideal equipment for the industrial and mining enterprises and small workshops, use is very extensive.Cuts almost anything that you can throw at it, including many different shapes and profiles of metal.Variable cutting speeds allow you to fine-tune the saw for better cut quality.
Features:
1.The maximum processing capability of BAND SAW BS-1018 is 10″(254mm)
2.High-capacity due to controlled by motor
3.Can rotate from 0° to 45°
4.Has the advantage of quickly clamping.
5.Features a belt driven and has four cutting speed.
6.The falling speed of saw bow is controlled by hydraulic cylinder
7.With a sizing device, machine will stop automatically after sawing materials
8.With power break protection device, machine will power off automatically when the rear protective cover is opened
9.With coolant system, can prolong the service life of saw blade and improve the precision of work piece
10.Has a block feeder (with fixed sawing length)
Standard Equipment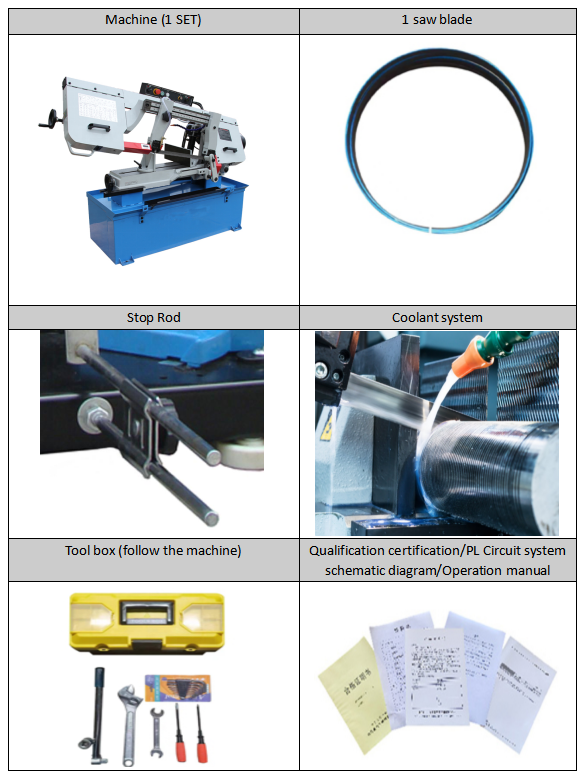 Get The Required Product Quotation As Quickly As Possible
If possible, Given detailed request helps to gain better-matched customized solution. Thanks for your patience. your request will be responsed within 1 hours, kindly pay attention to your email please.