Horizontal Mitre Band Saw Machine BS-260G
Product Category
Laser Plasma Cutting Machine
Technical Parameter :
Model
BS-260G
Cut Circular @90°
227mm(9")
Cut Rectangular @90°
260x200mm   (10"x7.9")
Cut Circular @60°
90mm(3.5")
Cut Rectangular @60°
85x85mm   (3.5″x3.5″)
Cut Circular @45°
150mm(6")
Cut Rectangular @45°
150x125mm   (6"x5")
Blade speed @50Hz
2P,72MPM  236FPM

4P,36MPM 118FPM

Blade speed @60Hz
2P,86MPM  283FPM

4P,43MPM 141FPM

Blade size
20X0.9X2445mm
Motor power
0.75/1.1kw

1/1.5HP(3PH)

Drive
Gear
Packing   size
145x72x102 cm
N.W./G.W.
220/275kg
Features:
1. 9″ round and 10″x7.9″ rectangular cutting capacity at 90°
2. Cast iron saw frame max. miter 60°
3. Hydraulic descent
4. Quick action lock/release lever for swivel head
5. Coolant system as standard
6. Control panel mounted for easy access
7. Adjustable length stop for repetition cutting
Standard Equipment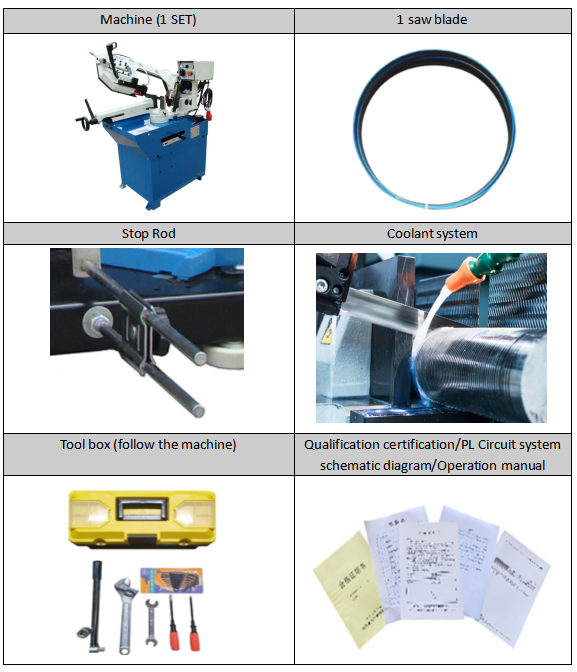 Get The Required Product Quotation As Quickly As Possible
If possible, Given detailed request helps to gain better-matched customized solution. Thanks for your patience. your request will be responsed within 1 hours, kindly pay attention to your email please.