Horizontal Mitre Band Saw Machine BS-916B
Product Category
Laser Plasma Cutting Machine
Technical Parameter :
Model
BS-916B
Machining capacity
Round steel@90°
229mm(9″)
Square steel@90°
127×405mm(5″×16″)
Round steel@60°
—
Square steel@60°
—
Round steel@45°
150mm(6")
Square steel@45°
150×190mm(6″×7.5″)
Saw cutting speeds
@ 60HZ
35. 60.88.115MPM
@ 50HZ
26.50.73.95MPM
Saw blade size
27×0.9×3090mm
Motor power
1.1W  (1.5PH)
Drive
V-belt
Package size
176×83×115cm
NW/GW
280/340kg
For high precision metal cutting, is the ideal equipment for the industrial and mining enterprises and small workshops, use is very extensive.Cuts almost anything that you can throw at it, including many different shapes and profiles of metal
The main performance characteristics:
1. 9" round maximum capacity at 90°.
2. Saw frame miter up to 45 degrees.
3. Hydraulic descent pressure controlled by a panel located on top of the bow.
4.  Automatic shutoff feature at the end of the cut reduces operator effort and keeps your shop safe.
5. Comes standard with a flood coolant system (which some companies charge extra for) to wash away metal chips, help blades last longer, and reduce expenses.
6. Fully-welded steel base minimizes vibrations to deliver clean, accurate cuts and adds structural strength to the machine.
Standard Equipment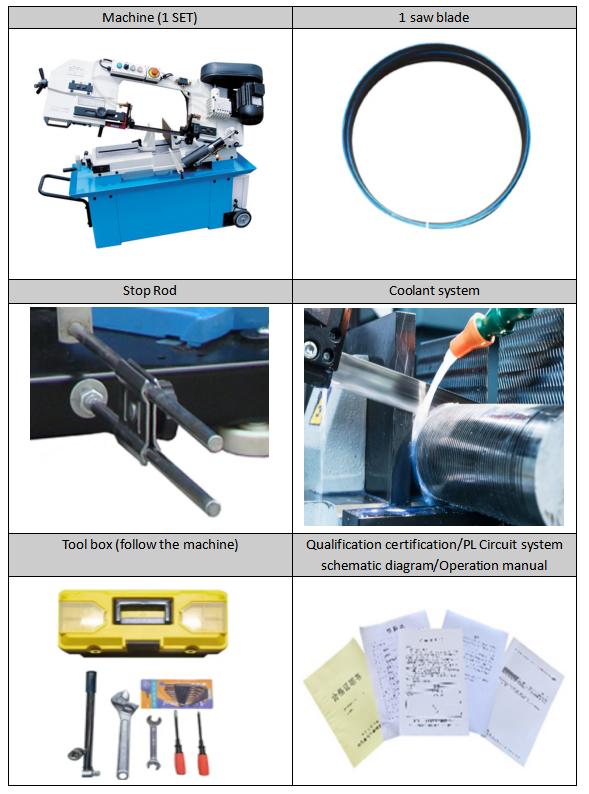 Get The Required Product Quotation As Quickly As Possible
If possible, Given detailed request helps to gain better-matched customized solution. Thanks for your patience. your request will be responsed within 1 hours, kindly pay attention to your email please.