IG200 High precision CNC internal grinder
| | | | |
| --- | --- | --- | --- |
| NO. | ITEM | Unit | Machine model: IG200 |
| 1 | Grinding inner diameter range | mm | Φ6~200 |
| 2 | Maximum depth of grinding hole | mm | 170 |
| 3 | Swivel diameter on bed surface | mm | 400 |
| 4 | Clamp the outer circle of the workpiece | mm | 220 |
| 5 | Maximum stroke of worktable | mm | 410 |
| 6 | Spindle speed of work head | r.p.m | 50-1500 |
| 7 | Feed speed of slide plate of spindle table | m/min | 20 |
| 8 | X axis feed speed | m/min | 0.1-15 |
| 9 | Z axis feed speed | m/min | 0.1-10 |
| 10 | X axis minimum movement unit | mm | 0.001 |
| 11 | Z axis minimum movement unit | mm | 0.001 |
| 12 | Spindle adjustment angle | Deg | Front 2° Back 20° |
| 13 | Feeding method | | Servo motor Automatic |
| 14 | Spindle speed (electric spindle) | RPM | 20000/40000/60000 |
| 15 | Wheel motor | KW | 7.5 |
| 16 | X axis servo motor power | KW | 2.2 |
| 17 | Z axis servo motor power | KW | 2.2 |
| 18 | Head stock servo motor power | KW | 1.5 |
| 19 | Cooling water pump motor power | KW | 0.75 |
| 20 | Equipment size (length * width * height) | mm | 2400*1930*1790mm |
| 21 | Machine weight | KG | 4000 |
Product description :
1. Main body
The main body and main components are made of high-grade cast iron FC-30. After artificial normalization heat treatment, and then natural aging treatment. The main components are processed by YASDA, MITSUI SEIKI, TOSHIBA, ELB and other world-class equipment in one clamping process. The precision size can reach the micron level to ensure the high precision of the equipment basic components.
2.Wheel spindle
The grinding wheel spindle adopts an electric spindle with the characteristics of high speed, high precision, high rigidity, low vibration, low noise, and low temperature rise. The driving system is cooled by a water cooling system to ensure that the grinding wheel head holder is always working in a thermally stable state. Cutting efficiency is doubled. According to processing requirements, electric spindles with different speeds of 24000-60000rpm can be selected to realize high-speed, high-precision and high-efficiency grinding of work-pieces. For work-pieces with deep inner circle, an integrated spindle can be customized to realize precision grinding.
3. CNC system
Adopt German Siemens 828D CNC system, after secondary development, convenient operation interface, equipped with Siemens high-performance servo motor, so that the equipment CNC system and transmission system have better compatibility, and also have automatic sand repair and automatic compensation functions to ensure The stability and accuracy of the feed and grinding are improved.
(1) Digitize processing, improve precision, establish standardization, and ensure product quality stability and consistency.
(2) The system panel is made of die-casting magnesium alloy, which is sturdy and durable. The system buttons have a protective film, IP65 protection level.
(3) The system does not need a battery, the data is permanently stored, no cooling fan is needed, and the motor encoder does not need a battery to remember the position.
(4) Ethernet interface, USB (online processing) CF card without capacity limitation. The machine tool processing can be monitored by the host online machine. The program in USB and CF card can be edited and modified on the CNC system at will.
(5) The machining cycle with animation function is very intuitive and can improve the programming efficiency.
(6) Multi-wheel data management
(7) Graphical programming tool shopmill/shopturn. Fast and intuitive programming without G code (option), especially suitable for small batches of work-pieces.
(8) The system and servo drive have high control precision, 80-bit floating point nanometer calculation precision, eliminating calculation errors
(9) USB and flash memory card storage
4. Z axis feed device
The feed axis adopts a pre-tightened high-precision linear guide design, which can withstand loads in all directions, highlights the characteristics of low friction coefficient and eliminates the movement gap, and provides practical guarantee for the realization of 0.001mm programming accuracy; high-grade balls The lead screw has excellent accuracy retention.
5.Work piece head stock
The work-piece head stock uses a sleeve bearing spindle, which can realize rapid movement in the X-axis direction, the fastest speed can achieve 10m/min, and the feed resolution can reach 0.001mm. The head stock spindle can be equipped with film chuck, hydraulic three-jaw chuck and other chuck tooling and roller sand repairing device.
6.Automatic lubrication system
The machine tool guide rail and precision ball screw are continuously lubricated by the automatic lubrication system to ensure a longer service life and long-term maintenance of the best accuracy. The cooling system is separated from the body, which can eliminate the influence of vibration and facilitate heat dissipation.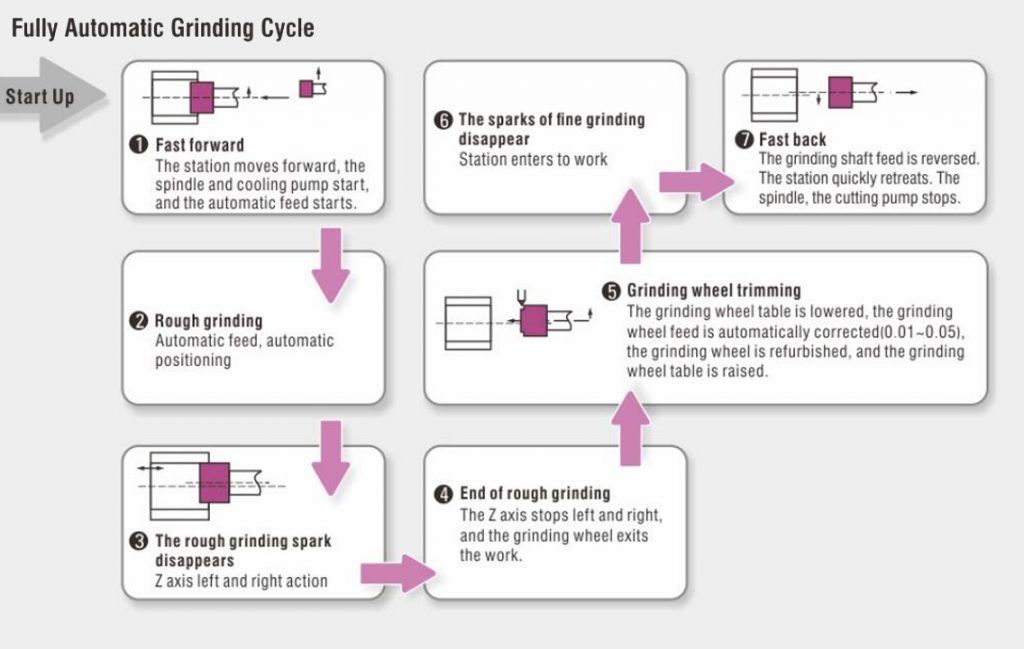 Standard Equipment
1. Grinding cooling device (water tank/ water
pump/ water pipe)(1 set)
2. Diamond trimming pen (1 pcs)
3. Angle adjustment table (1 pcs)
4. Toolbox (hex wrench set/ Open end wrench/
screwdriver) (1 pcs)
5. Spindle grinding wheel post (3 pcs)
6. High-speed grinding spindle (RMP optional) (1 pcs)
7. Basic adjustment block (6 pcs)
Optional Equipment
1. Hydraulic three-jaw chuck
2. Chuck flange
3. Mechanical spindle: 10,000/20,000/30,000rpm
Electric spindle: 40,000/100,000rpm
4. End face detecting device
5. Magnet filter
6. Paper tape filter
7. Closed full cover and automatic door
8. Inner diameter automatic measuring device
Get The Required Product Quotation As Quickly As Possible
If possible, Given detailed request helps to gain better-matched customized solution. Thanks for your patience. your request will be responsed within 1 hours, kindly pay attention to your email please.