H3 High Precision Central Type Step Grinding Machine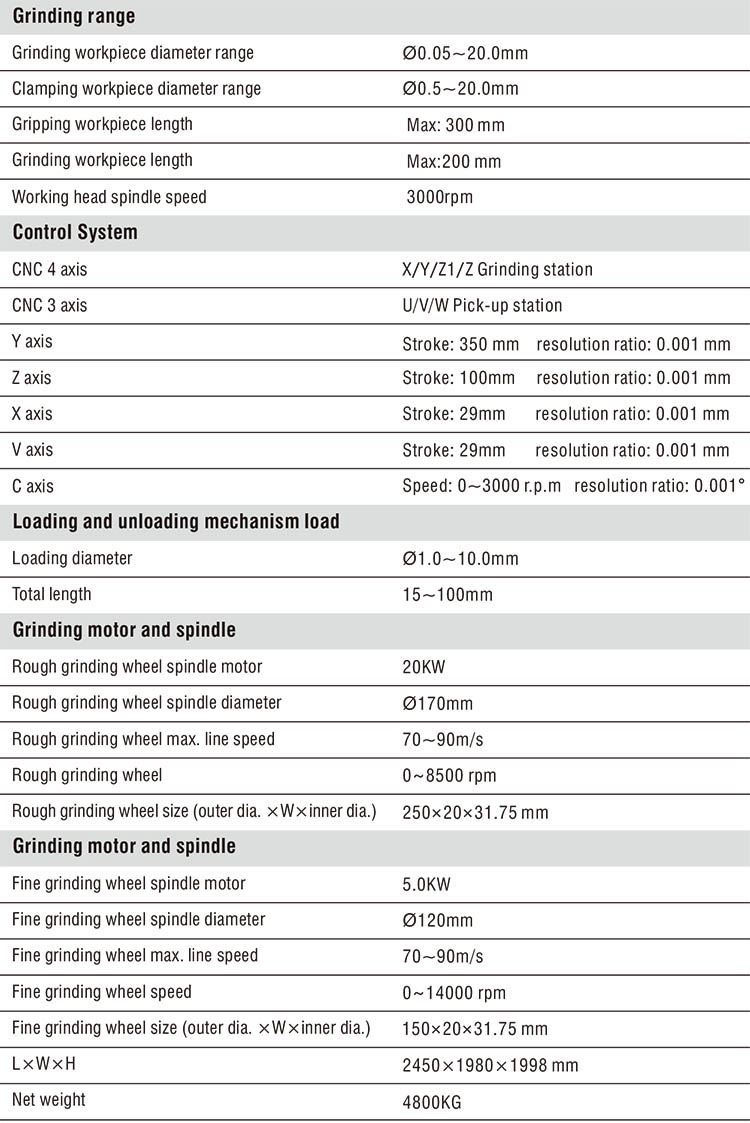 ●Grinding workpiece diameter range:Ø0.05~20.0mm
●Clamping workpiece diameter range:Ø0.5~20.0mm
●Gripping workpiece length:Max: 300 mm
●Working head spindle speed:3000rpm
●CNC 4 axis:X/Y/Z1/Z Grinding station
●CNC 3 axis:U/V/W Pick-up station
●Y axis:UStroke: 350mm,resolution ratio: 0.001 mm
●Z axis:Stroke: 100mm,resolution ratio: 0.001 mm
●X axis:Stroke: 29mm,resolution ratio: 0.001 mm
●V axis:Stroke: 29mm,resolution ratio: 0.001 mm
●C axis:Speed: 0~3000 r.p.m,resolution ratio: 0.001°
Diameter range: 0.05 ~ 20mm, with "self-developed control system and software", is first choice of grinding tool for complex geometry and high ratio of height and diameter work piece.
●Grinding diameter range of 0.05~20mm, five-axis precision step grinding machine is equipped with three-axis robot loading and unloading mechanism, especially for the grinding of complex geometries and high ratio of height and diameter work piece.
●On-line measurement system ensures long-term unattended production accuracy during batch grinding.
●The first centering workpiece clamping device in China can obtain superior concentricity in the grinding process.
●The high-speed rotation of the roughing and finishing grinding working in the same time, which helps to achieve the highest level of diameter difference compensation control. The excellent finish of the taper and cylindrical surface
1、Wheel Trimming Device
Manual trimming, fine adjustment stroke 10mm, manual sliding stroke 50mm
2、Online Measuring Device
Length positioning, real-time monitoring and compensation for errors caused by loading clamps. The problem of the length of the workpiece is effectively solved during the processing, and the front-end-face positioning is adopted.
3、Workpiece Clamping Device
With the Schaublin clamp from Switzerland, the clamping precision and the durability is good. The clamping system of the grinding machine broadens the application range of the grinding machine, making our grinding machine an efficient production line.
The high-frequency motor spindle is equipped with imported special bearing FAG to ensure high precision and high efficiency requirements. Integrated built-in cooling circuit ensure motor temperature operation.
4、Grinding Fluid Filter
After the grinding process, the sewage liquid fiows from the sewage tank to the VDF filter tube through the filter pump. After two-stage filtration, the precision can be up to 5 microns (the filter bag usage period is about 3 months), and the filtered powder impurities After back fiushing to the scraper box, it will be periodically discharged into the collection box. The filtered liquid will be stored in the cleaning tank for use. When it is used, it will be supplied to the machine through the lift pump
Mechanical arm device
The automatic loading and unloading are done by three ANCA servo motors. Through the combination of the precision wire rail and the ANCA control system, the whole loading and unloading work process can be completed efficiently, accurately and conveniently.
Tray device
The loading tray and the unloading tray load 340 ~ 510PCS are convenient and flexible to operate, just need to pick up and align the four holes to put back.
Loading and unloading device
Two pneumatic finger cylinders are used to load and unload the product. A rotary cylinder for angle adjustment, the angle of adjustment is 0 ~ 90 °
Get The Required Product Quotation As Quickly As Possible
If possible, Given detailed request helps to gain better-matched customized solution. Thanks for your patience. your request will be responsed within 1 hours, kindly pay attention to your email please.