Horizontal Mitre Band Saw Machine BS-315GH
Technical Parameter :
Model
BS-315G
Cut Circular @90°
230mm(9")
Cut Rectangular @90°
315X170mm  (12.4"x6.7")
Cut Circular @60°
130mm (5″)
Cut Rectangular @60°
130x130mm (5″x5″)
Cut Circular @45° (left and right)
210mm(8.25")
Cut Rectangular @45° (left and right
210×170 mm (8.25"x6.7")
Blade speed @50Hz
40/80 MPM
Blade Speed @60HZ
48/96 MPM
Blade size
27X0.9X2450mm
Motor power
0.75/1.1 kW

1.0/1.5 HP (3PH)

Drive
Gear
Packing size
163x87x97 cm (body)

72x56x60 cm (stand)

N.W./G.W.
350/400 kg
Features:
1. 9″cutting capacity at 90°
2. Three phase double speed motor
3. Gear drive, powerful cutting band saw machine
4. Hydraulic descent
5. Dual miter on both side, max. 60°
6. Quick action lock/release lever for swivel head
Standard Equipment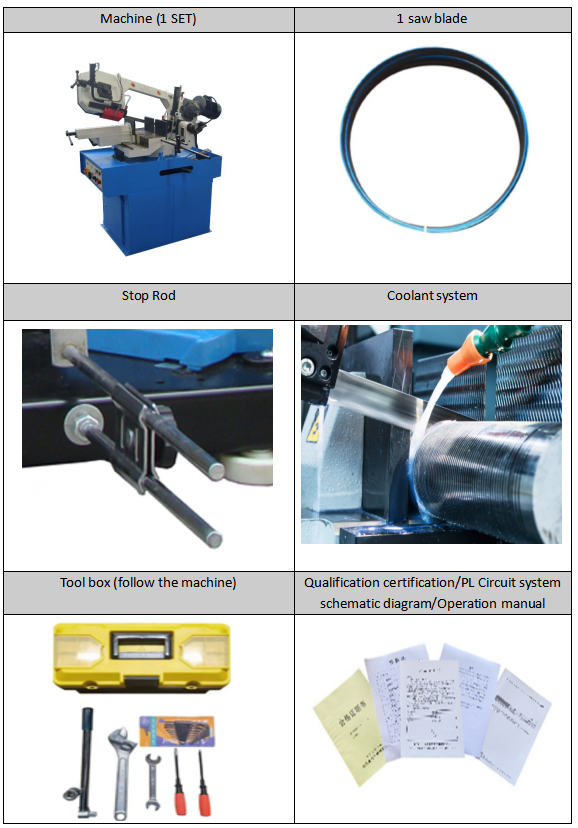 Get The Required Product Quotation As Quickly As Possible
If possible, Given detailed request helps to gain better-matched customized solution. Thanks for your patience. your request will be responsed within 1 hours, kindly pay attention to your email please.