X5032 X5040 Vertical Metal Knee Type Universal Milling Machine
| | | | |
| --- | --- | --- | --- |
| Specifications | Units | X5032 | X5040 |
| Table size | mm(") | 1320×320(52×13) | 1700×400(67×16) |
| T-type slot numbers / width /space | mm | 3-18-70 | 3-18-90 |
| Max. load of table | kg | 500 | 800 |
| Longitudinal travel (manual/auto) | mm | 700/680 | 900/880 |
| Transverse travel(manual/auto) | mm | 255/240 | 315/300 |
| Vertical travel (manual/auto) | mm | 370/350 | 385/365 |
| Cutting feed speed | mm/min | X.:23.5-1180.Y:15-786.Z:8-394 | X.Y:23.5-1180. Z:8-394 |
| Rapid feed speed | mm/min | X:2300.Y:1533.Z:770 | X.Y:2300..Z:770 |
| Spindle travel | mm | 70 | 85 |
| Distance between spindle nose and table surface | mm | 60-430 | 130-515 |
| Max. swivel angle of table | degree | ±45 | ±45 |
| Spindle speed step | (steps) | 18 | 18 |
| Spindle speed range | rpm | 30-1500 | 30-1500 |
| Spindle motor power | KW | 7.5 | 11 |
| Overall dimensions | mm | 2294x1770x1960 | 2560x2130x2298 |
| Machine weight | Kg | 2800 | 4250 |
Product Detail
Vertical lifting platform milling machine is a kind of general metal cutting machine tool. The X5032 & X5040 series vertical milling machine is suitable for all kinds of cylindrical milling cutter, milling cutter, angle cutter, milling cutter and face various plane, inclined plane, groove, etc.
If take use of appropriate milling machine accessories, For example, The spindle taper hole of the machine can be directly or through the attachment installed all cylindrical milling cutter, disc cutter, molding cutter, end milling cutter tool, the machine will be available for processing a variety of small parts of plane, inclined plane,grooves, holes, and other gears.
The configuration of universal milling head, round table, the work table size of the machine can be further expanded,Large machine tool use range, according to user needs can be configured to display device.
It's an idea processing milling machine equipment for mechanical manufacturing, mold, equipment, instruments, automobiles, motorcycles and other industries.
Features
1. Using the moment type rail steel for good stability
2. X, Z, Y direction fast feed
3. Lengthen the slider, the distance is lengthened, and the stability is increased.
4. Concentrated lubrication of the guide surface
X5032 milling machine can be used for drilling, milling plane, hinge hole, and the repair of a variety of forms of processing, X5032 milling machine is widely used in small and medium enterprises, township and individual industrial machinery processing, and various types of machinery manufacturing processing of small parts, also applies to repair shop.
Standard Equipment
Drill chuck
Mill chuck
Inner hexagon spanner
Work light
Reduction sleeve
Draw bar
Spindle arbor
Wrench
Optional Equipment
DRO on X,Y,Z–AXIS
Clamping kit
Universal dividing head
Rotary work table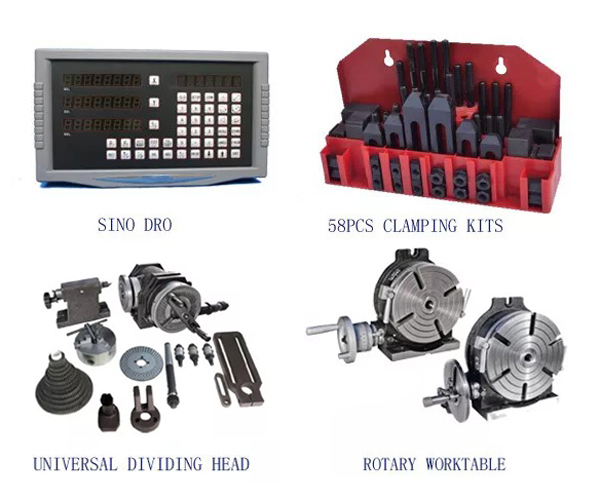 Get The Required Product Quotation As Quickly As Possible
If possible, Given detailed request helps to gain better-matched customized solution. Thanks for your patience. your request will be responsed within 1 hours, kindly pay attention to your email please.