X6333 X6333A Turret Milling Machine
Product Category
Laser Plasma Cutting Machine
Technical Parameter :
Item /Model
Unit
X6333
X6333A
Table size
mm/"
330×1370 (13"x54")     330×1500 (13"x58")
Long travel
mm
820          950
Cross travel
mm
360
Vertical travel
mm
460
T-slot No.and size
mm
3×16
Ram Travel
mm
500
Distance from spindle nose to table surface
mm
0~450
Spindle hole taper
–
Standard :ISO40
Spindle travel
mm
127
Spindle Speed
rpm
Standard:Shift grade 50HZ:66-4540 60HZ :80-5440
rpm
Optional :variable 60-3600
Auto.quill feed
mm
Three steps:

0.04(0.0015")/0.08(0.003")/0.15(0.006")mm/revolution

Spindle motor
KW/HP
3.75KW/5HP
Head swivel
°
90°
Head tilting
°
45°
FIX
Dimension

of package

One miller per case
mm
1800x2016x2180
Two miller per case
mm
1800x2200x2180
G.W/set
KG
2200
2250
Turret Milling Machine is also called Rocker arm universal milling machine
Product Description:
Milling machines are tools used by engineers and machine creators to cut metal into a specific shape. A turret milling machine is a vertical mill, meaning the spindle — the area that performs the cuts — is positioned vertically. The turret milling machine is considered a versatile unit, because it can create a wide array of shapes. It has a quill that can be raised or lowered to create different cutting depths. Turret milling machines are only effective if they are kept at a relatively small size, because the quill is difficult to operate with larger units.
Product Features:
The machine tool has good rigidity and can bear heavy load cutting;
The spindle motor of the machine tool has high power and wide speed range, which can give full play to the efficiency of the tool and can carry out high-speed cutting;
The wear-resistant castings of the machine tool are made of vanadium-titanium wear-resistant cast iron, and the important transmission parts are made of high-quality alloy steel;
Ensure the durability and stability of the machine tool;
The machine tool has a complete lubrication system.
Standard Equipment
| | | |
| --- | --- | --- |
| drawbar | Handle lubricate | Electrical cabinet |
| Tools and tool box | Working light | 16 speeds milling head |
Optional Equipment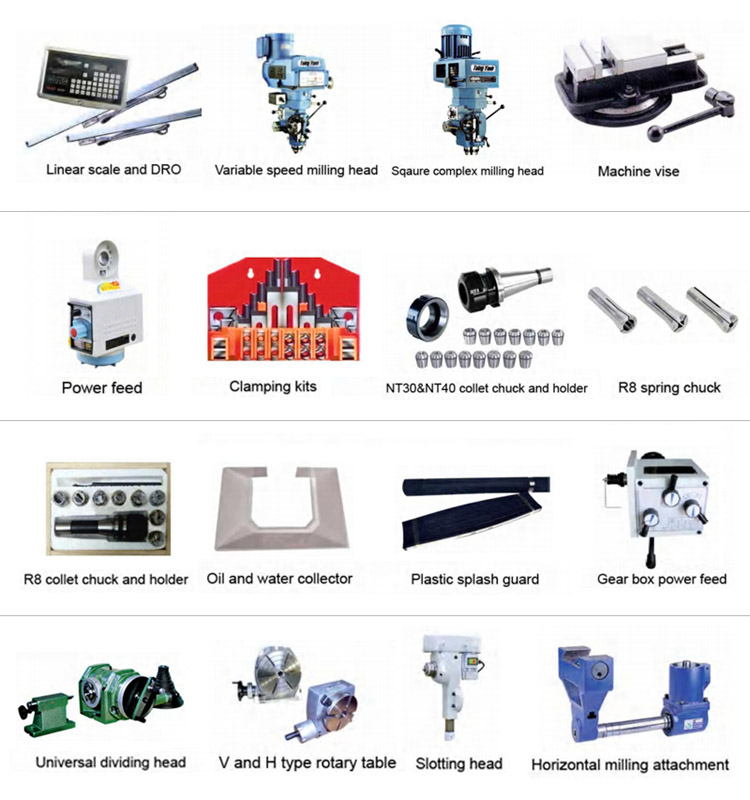 Get The Required Product Quotation As Quickly As Possible
If possible, Given detailed request helps to gain better-matched customized solution. Thanks for your patience. your request will be responsed within 1 hours, kindly pay attention to your email please.