Products Features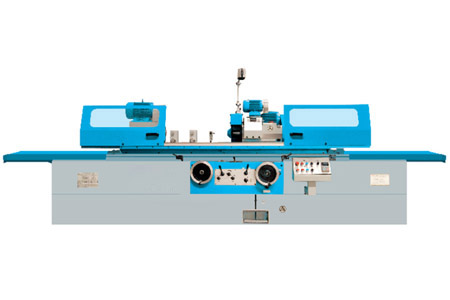 MQ8260B & MQ8260B/6 crankshaft are simple in construction, easy in operation and wide in application; suitable for grinding crankshaft pins and journals. It can also be used as cylindrical grinder.
The machine is controlled by mechanical, electric and hydraulic means; operated mainly by hand.
Left right chucks are crisscross and adjustable Workpiece is held by centers or by chucks, driven by workhead motor, and feed by hand for grinding.
The worktable consists of upper and lower parts, and upper part having the inclined worktable-surface at 10°( only for MQ8260B/6)
Longitudinal worktable travel is realized by manual-drive or motor-drive, with the motor drive for jump displacement or adjustment.
The max. wheel, worktable, coolant pump and oil pump are driven by their individual motors.
Worktable and wheelhead have the hydraculic and electric interlocking mechanism, ensuring the safely even if misoperation whether in adjustment or in the process of grinding. The wheelhead is equipped with the reliable protective guard, the coolant guard and the bed ways guard is stainless steel. The wheel balancing stand adopt new static wheel balancing stand.
| | | | |
| --- | --- | --- | --- |
| Main specifications | | | |
| Model | MQ8260B/6×1600 | MQ8260B×1600 | MQ8260B/2000 |
| Max. work diameter × Max. length | Φ580×1600 mm | Φ580×1600 mm | Φ580×2000 mm |
| Worktable | oblique angle table 10° | Flat worktable | Flat worktable |
| Capacity | Max. swing over table | Φ580 m | |
| | Work diameter ground with steady rest | Φ30-100 mm | |
| | Grinding cylindrical diameter | Φ30-200 mm | |
| | Throw of crankshaft | 110 mm | |
| | Max. work length ground in 3 jaw chuck | 1300 mm | 1300 mm |
| | Max. work length ground between centers | 1600 mm | 1600 mm |
| | Max. work weight | 120 kg | |
| Headstock | Center height | 300 mm | |
| | Work speed ( three steps ) | 25,50,100 r/min | |
| wheelhead | Max. cross movement | 200 mm | |
| | Wheelhead rapid approach & withdrawal | 100 mm | |
| | Wheelhead feed per turn of cross feed handwheel | 1 mm | |
| | Wheel feed per grad of cross feed handwheel | 0.005 mm | |
| Grinding wheel | Wheel spindle speed | 760 rpm | |
| | Wheel size | Φ900×32×Φ305 mm / Φ900×22×Φ305 mm | |
| Overall capacity of motor | 9.45 kw | | |
| Overall dimensions (L×W×H) | 4000×2100×1584 mm | 4650x2100x1584mm | |
| Packing dimensions (L×W×H) | 4350×2250×2000 mm | 5000×2250×2000 mm | |
| Weight | 6700 kg | 6700kg | 7200kg |
| Working accuracy | Ovality new standard | 0.005mm | |
| | Cylindricity | 0.01mm | |
| | Roughness | Ra 0.32 | |
| | | | |
| | | | |