On July 25, Ruan Zhongkui, Secretary of the Party Committee and Chairman of Beijing Jingcheng Electromechanical Holdings Co., Ltd. (referred to as "Jingcheng Electromechanical") ; Li Zhongbo, deputy general manager of Beijing No.1 Machine Tool Co., LTD. (referred to as BYJC Machine tool) and other party members went to Wuxi Daming International Holding Co., Ltd. in Jiangsu province to investigate and attend the commissioning ceremony of BYJC CNC turning and milling complex machine tools.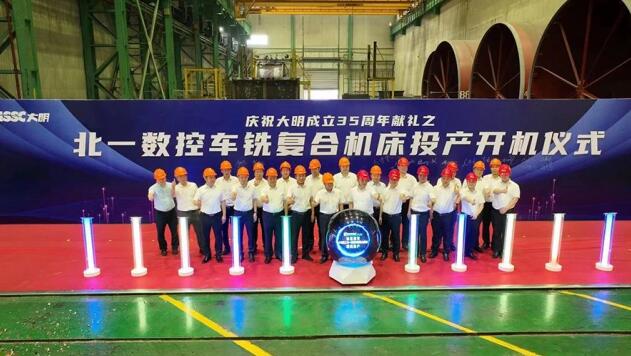 At the opening ceremony, Ruan Zhongkui, Li Zhongbo, Chairman of the board of directors of Daming International, Zhou Keming, Executive Vice president of Daming International, Qian Li, delivered speeches respectively.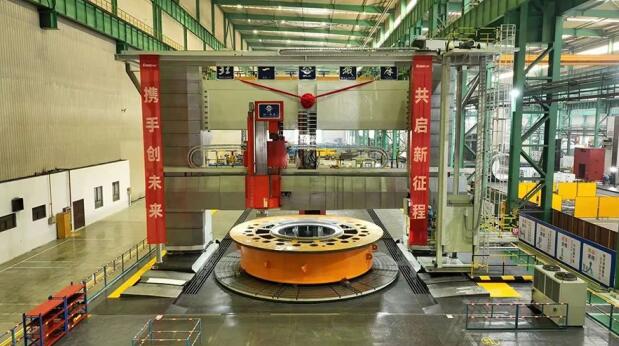 The BYJC Machine Tool XKA28120×200 ultra-heavy CNC gantry turning and milling compound machine tool successfully put into production this time weighs 1,160 tons, and can realize large frame parts with a width of 12 meters, a length of 20 meters, and a height of 7 meters, as well as rotary parts with a diameter of 12 meters. Turning and milling compound processing of parts, the machine tool is equipped with a domestic advanced 3-meter-stroke large-section machine tool ram, and the machine tool is equipped with a workbench with a width of 11 meters, which has refreshed the manufacturing record of BYJC machine tool workbench.
The machine tool has high processing precision and good stability, and can realize five-sided processing in one clamping, which solves the technical problem that the machine tool gantry participates in feed processing through super-wide, super-wide and super-heavy machine beams, allowing customers to realize their own at the design end The technological advancement of the product and the high efficiency of the processing technology provide DMSSC Heavy Industry with a more comprehensive and advanced processing and manufacturing solution.
Beijing No.1 Machine Tool Plant and DMSSC International have established a cooperative relationship for more than 10 years and have always maintained close contact. In the future, the two parties will take this equipment as an opportunity to continue to leverage their advantages in technological innovation and processing and manufacturing, focus on the localization of high-end equipment, jointly open a new starting point for deepening cooperation, and contribute to accelerating the construction of a "manufacturing power".
Source: Beiyi Machine Tool (BYJC)
Shanghai ANTS Machine Equipment Co.,LTD. progresses together with China's machine tools, Our vision: To be a brand that customers can absolutely trust !