TK6511 economical CNC horizontal milling and boring machine is designed and manufactured with advanced mechanical, electrical, hydraulic and other new technologies. It has the characteristics of excellent performance, wide processing range, high precision and high production efficiency. The boring machine has advanced transmission mechanism, simple operation interface and beautiful overall appearance. It is suitable for grooving processing of plane, inclined plane, curved surface and hole of medium size and weight parts. It is widely used in aviation, engine, mold, construction machinery, heavy machinery, locomotive, mining equipment and other manufacturing industries. It can realize drilling, reaming, boring, groove cutting and plane milling in one clamping, and can perform counter-boring and multi-face machining of work-pieces installed on the rotary table.
Main technical parameters of boring machine: spindle diameter 110mm; spindle end face diameter 190mm; spindle taper hole BT50; spindle maximum torque 447Nm; spindle maximum resistance 18000N; main motor power (direct drive) 15Kw; spindle speed 20-1000r/min; Boring diameter φ240mm; Reasonable maximum drilling diameter of boring shaft φ50mm; Worktable lateral travel (X) 1400mm; Headstock vertical travel (Y) 900mm; Column longitudinal travel (Z) 700mm; Boring shaft axial travel (W) 600mm; X/Y/Z axis moving speed 1-5500mm/min;
The size of the worktable is 1200*900mm; the width of the T-slot of the worktable is 28mm; the worktable is rotated manually by 4*90° for positioning; the maximum load of the worktable is 5000kg; the positioning accuracy is X/Y/Z0.04/0.032/0.032mm; repeated positioning Accuracy X.Y.Z0.023/0.023/0.02mm; Total electrical capacity (about) 30KVA; Machine tool weight (about) 10300kg; Machine tool dimensions (L*W*H) 3500*4200*3100mm.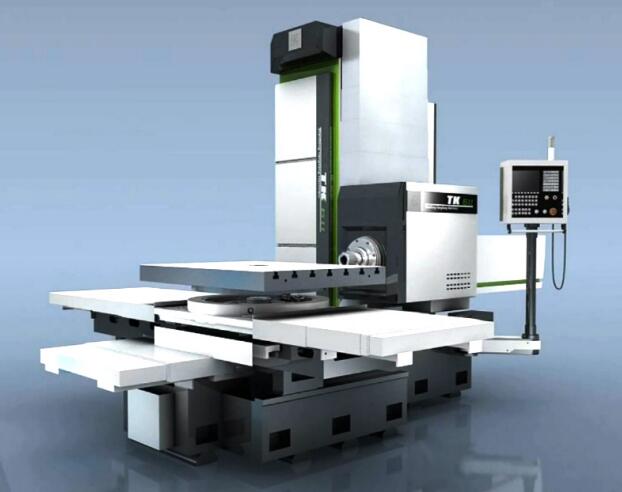 A new generation of CNC metal cutting machine tools
1. The main drive system adopts numerical control direct drive near-zero transmission technology, with few transmission parts and high transmission precision. The high-torque AC servo motor directly drives the main shaft, with low energy consumption, low noise, low failure rate, and easy maintenance. The spindle speed range is large and the torque output is large.
2. The patented technology of the short cylindrical rolling rotary table significantly improves the support capacity and reliability of the table.
3. The servo feeding devices of each coordinate axis are all driven by AC servo motors, and are supported by preload-ed ball screws and special angular contact bearings .
4. The headstock adopts nitrogen balance system, which is more stable, reliable and safe.
5. The towline has built-in patented technology, which can effectively protect the pipeline operation system, reduce the failure rate and improve the overall aesthetics.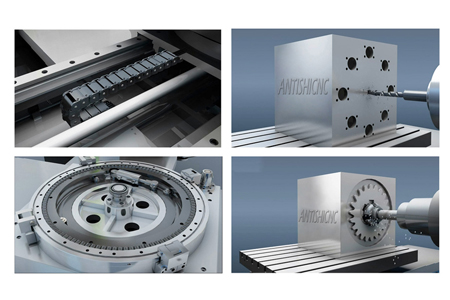 PS: Product improvement and update from time to time, For more details please consult with Sales engineers.
Copyright belongs to Shanghai ANTS Machine Equipment Company. All rights are reserved.