Intelligent high-speed band sawing machine is composed of metal band sawing machine bed, inner and outer table, guide device, saw frame, motion mechanism, feeding system, material carrier, work piece clamping device, electrical system, band saw blade tensioning device, lubrication system and cooling system. The intelligent high-speed band sawing machine can be applied to cutting work pieces in all machining industries. This band sawing machine can not only improve the production efficiency of purchasing enterprises, but also improve the accuracy of sawing work pieces.
The high-speed intelligent band sawing machine is flexible and convenient to operate, and can realize continuous cutting of the band sawing machine, switching between automatic and manual modes, counting and clearing, and time adjustment. The intelligent system of the band sawing machine can set different parameters and monitor the running process. The feeding is fixed, and the band sawing machine can be completed automatically at one time without manual assistance.
The CH-450NC high-speed intelligent band sawing machine developed and produced by Shanghai ANTS is mainly used for batch sawing of small and medium-sized bars, tubes and profiles, and can be adapted to sawing of various ferrous materials. It has the characteristics of high cutting efficiency, energy saving, narrow kerf, energy saving and material saving, and simple operation.
CH-450NC adopts gantry structure, hydraulic automatic feeding, feeding length and times can be set and displayed through touch screen, which improves sawing efficiency and sawing accuracy, and is an ideal equipment for batch cutting.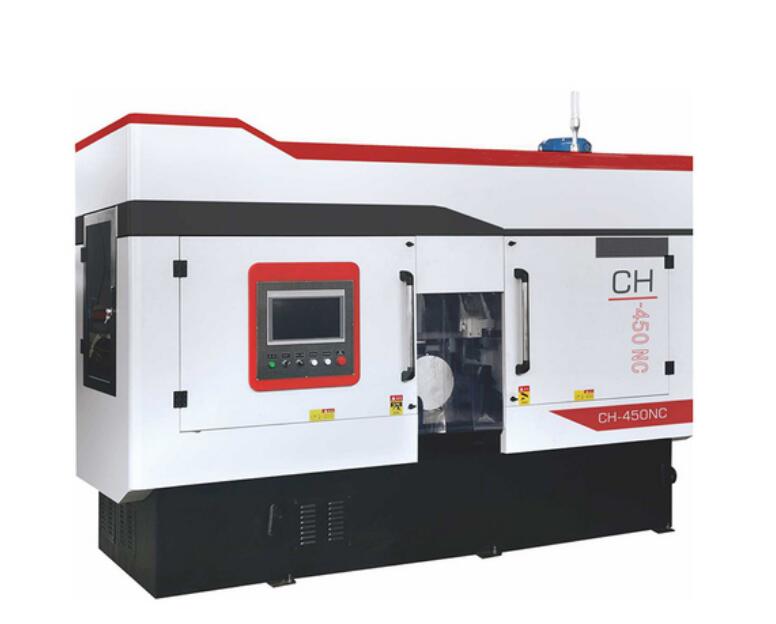 Product parameters:
Maximum sawing size
Round :Ø450 mm

Square:450X450mm

Main motor power
 11(4P)
Band saw blade specifications
41×1.3×6380 mm
Hydraulic motor power
2.25kW
Band saw blade speed
30-160m/min
Cooling pump power
0.37kW
Working clamping method
hydraulic vice
Main drive structure
Gear reducer
Saw blade tensioning method
hydraulic
Feeding Method
automatic feeding
Worktable height
720mm
Feeding itinerary
500mm
Machine weight
4600kg
Machine size
2750X3500X2540
Remarks: Automatic chip removal
If you want to know more about ANTS, please visit our official website.
Our website:http://www.antsmachine.com
If you have any other questions, please contact us directly by email.
Our eail: Contact@antsmachine.com