Machine features:
1. When performing cone grinding, the worktable can be rotated left and right, and can be accurately positioned by the balance.
2. The oil film between the bearing and the main shaft keeps vibration to a minimum, thereby achieving outstanding results and highest accuracy.
3. The precisely balanced spindle head and solid grinding head ensure extraordinary results in any type of operation.
4. The sturdy steel bar and the sturdy design panel base make it resistant to temperature fluctuations and deformation.
5. The main shaft is installed from both sides and has three parts composed of adjustable sliding bearings.
6. The main shaft of the hydrodynamic bearing, so there is no contact between the main shaft and the bearing.
7. The longitudinal table feed can be set to automatic hydraulic feed or manual feed through the handwheel.
8. The options of stepless feed adjustment and programmable hold time, at the end of each workbench movement.
9. Reposition the grinding spindle frame hydraulically or manually.
10. The guide rails are precisely constructed and hand-polished on the x-axis and y-axis.
11. The longitudinal table guide rail and the horizontal guide rail of the grinding headstock each have a v-shaped guide rail and a flat guide rail.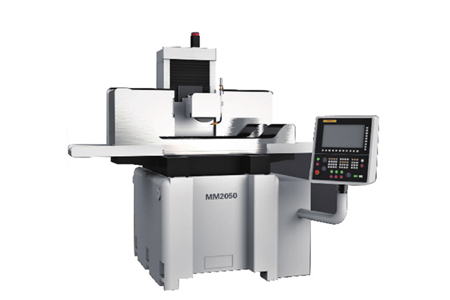 The main technical parameters of the product:
Model

MW1420

M1432B

M1450

M1463

Distance between centers

500, 750mm

1000, 1500, 2000

1500,2000,3000

3000,4000,5000

Center height

135mm

180

270

335

Dia. Ground (O.D)

5~200mm

8~320

25~500

30~630

Dia. Ground (I.D)

25~100mm

30~100

30~200

30~200

Max. Length ground (O.D)

500, 750mm

1000, 1500, 2000

1500,2000, 3000

3000,4000, 5000

Max. Length ground (I.D)

100mm

125

320

320

Max. weight of workpiece

100kg

150

1000

3000

Swiveling angle

+90 degree

+90 degree

+90 degree

+90 degree

Center taper (MT)

4MT

MT4

MT6

MT6

Spindle speed

50HZ: 25 – 380r/min

50HZ: 25-220r/min

50HZ: 20 – 224r/min

50HZ: 8 – 150r/min

Wheel Spindle speed

1670rpm

1670

1330/665

740

Swiveling angle

+30 degree

+30 degree

+30 degree

+30 degree

Wheel Size Max. dimension of wheel
(OD x W x ID)

400 x 50 x203mm

400 x 50 x203mm

500x75x305mm

900x75x305mm

Max. Swiveling angle

Clockwise

3 degree

3 degree

3 degree

2 degree

Anticlockwise

7degree(1000)6degree

7degree(1000) 6degree(1500)

6degree(1500) 5degree(2000)

3degree(3000)

2degree(4000)

Roundness

0.003mm

0.003

0.005

0.005

Cylindricity

0.005mm

0.005

0.008

0.008

Roughness

0.2Ra

0.2

0.32

0.32