Classification: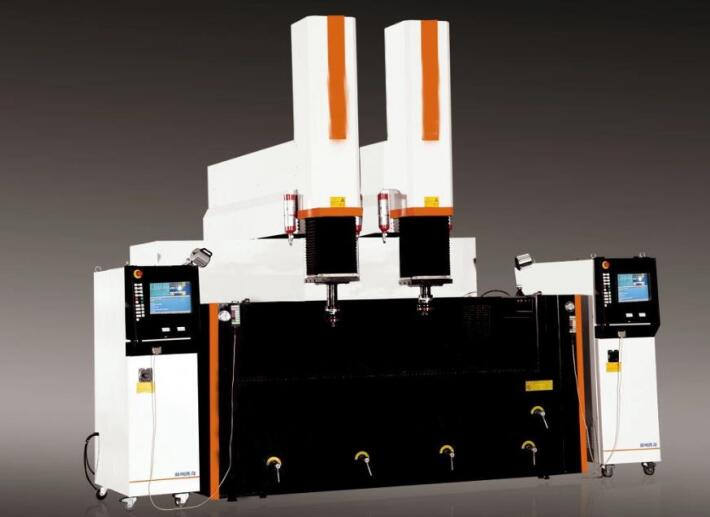 1. CNC EDM machine:
A CNC EDM machine with three or more axes can realize electric discharge machining for each axis, and can also realize multi-axis continuous electric discharge machining. It is automatically controlled by a computer to complete complex and precise EDM. The number of CNC EDM control axes can be divided into three categories: three axes, four axes and five axes.
2. ZNC EDM machine:
Only Z axis can realize EDM, single axis CNC, X axis and Y axis manual control, it is a practical EDM
3. Special EDM machine:
EDM machines for special processing; such as tire mold EDM machines, shoe mold EDM machines, etc.
4. HE350-CNC double head electromechanical spark forming machine
Double head spark machine structure machine tool, double system, the production efficiency is more than doubled;
The large-scale double-head spark machine can process the same mold at the same time or process multiple molds separately, which can maximize the efficiency;
Due to the high-strength BOX-type structure of the head ram part of the EDM, high precision is maintained when processing large and heavy workpieces;
The high-efficiency effect of EDM graphite discharge machining is the most advantageous in the same industry. Under the same conditions, the efficiency is more than 2 times that of it;
The superior performance of high efficiency, high precision and low loss has reached the advanced level of similar products in the world, and it is the first choice for domestic high-end spark machines;
Machine Features:
The main shaft of the machine tool adopts various famous brand linear slides, and the stroke is smooth.
The XY slides feature a V-shaped and flat design and use TURCITE-B wear plates under heavy pressure. Lightweight sliding and excellent precision.
Both the XY axes use ball screws, which are light in transmission and easy to use.
The main shaft tube is made of high-grade alloy steel, which is precisely machined to ensure the best machining accuracy.
Electric control box features:
High processing efficiency, ultra-fine surface processing, simple and easy-to-understand operation panel, simple operation steps, and the mechanical status is clear at a glance.
Can do deep hole processing, tungsten steel, graphite processing, ultra-micro consumption, can be used for large area fine processing.
Using MOS-FET circuit design, high efficiency, using industrial DC, SERVO DRIVER control, with over current, over speed, overload, short circuit protection.
Anti-carbon automatic adjustment and automatic slag discharge function.
Fully automatic EDM condition selection.
The high-speed machining efficiency is increased by 20%, and the electrode consumption ratio is below 0.1% during the second period. The ultra-fine machining circuit is about 20% faster than the fine machining of the traditional EDM.
2-stage servo feed speed, excellent deep hole machining performance.
Three-axis optical ruler monitoring function to ensure displacement accuracy.
The high-sensitivity infrared detection fire protection system also has the function of automatically cutting off the power supply.
Standardized PC board is easy to maintain and facilitates after-sales service functions
The main purpose:
The main purpose and scope of application of the EDM machine tool This equipment is mainly used for the processing of complex cavities and curved surfaces of various conductors such as various molds and precision parts manufacturing. It has the characteristics of high machining accuracy, high finish and fast speed. The appearance design of the EDM machine tool is beautiful and generous, the structure design is reasonable and compact, and the mechanical structure is firm and strong. The machine tool has strong practical functions in terms of structural characteristics.
Shanghai ANTS Machine Company is mainly engaged in DK77 series EDM wire cutting machine, D71 series EDM machine, C series CNC EDM Die Sinker , ZNC series EDM machine, Milling machine, Sawing machine, Grinding machine, Drilling machine, and other equipment. The products are sold to Hebei, Shangxi, Hunan, Henan, Jiangsu, Shandong, Guangdong, Shanghai and other places. More than 300 professional after-sales service personnel in 83 offices across the country provide customers with pr-sales and after-sales services at any time. The products are deeply trusted by customers and are exported to more than 20 countries and regions such as the United States, Germany, Italy, India, Thailand, and Russia. Especially in recent years, they have been widely used in major domestic well-known enterprises such as China National Heavy Duty Truck, Ministry of Aeronautics and Space, Zhongyuan Special Steel, Zhengmei Machinery, Shanghai Heavy Industry, Wuhan Iron and Steel, Anshan Iron and Steel and Sany Heavy Industry have the characteristics of rich experience, excellent.