Product Description:
The XA6132 universal milling machine is a powerful metal cutting machine with good rigidity, a wide range of feed speeds, and it can withstand heavy load chips. The spindle taper hole can be installed with various cylindrical milling cutters, disc milling cutters, forming milling cutters, face milling cutters and other tools directly or through accessories. It is suitable for processing various parts of planes, bevels, grooves, holes, etc., and is a mechanical manufacturing Ideal processing equipment for industries such as, molds, instruments, meters, automobiles, and motorcycles.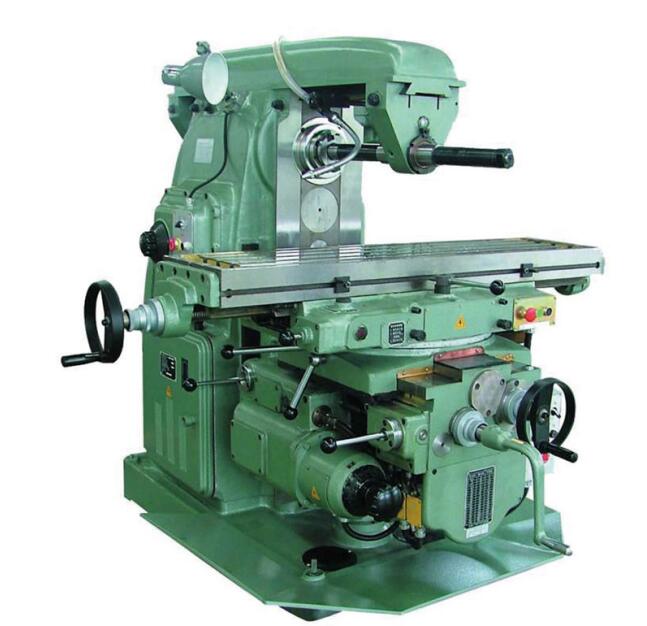 Main structural features:
1. The main components such as the base, body, workbench, middle slide, and lifting slide are all cast from high-strength materials, and are treated with artificial aging to ensure the long-term stability of the machine tool.
2. The milling machine spindle bearing is a tapered roller bearing. The spindle adopts a three-support structure. The spindle system has good rigidity and strong load-bearing capacity. The spindle adopts energy-consumption braking with large braking torque and rapid stopping.
3. The horizontal rotation angle of the worktable is ±45°, which expands the processing range of the machine tool. Both the main transmission part and the table feed part adopt the gear transmission structure, which has a wide range of speed adjustment, and the speed change is convenient and fast.
4. There are three types of worktable X/Y/Z directions: manual feed, motorized feed and motorized fast feed. The feed speed can meet different processing requirements; the fast feed can make the workpiece reach the processing position quickly, which is convenient and quick to process. , Shorten non-processing time.
5. The X, Y, Z three-direction guide rail pairs are processed by ultrasonic quenching, precision grinding and scraping, combined with forced lubrication, to improve accuracy and extend the service life of the machine tool.
6. The lubrication device can forcibly lubricate the longitudinal, horizontal and vertical lead screws and guide rails, reduce the wear of the machine tool, and ensure the efficient operation of the machine tool. At the same time, the cooling system can change the coolant flow rate by adjusting the nozzle to meet different requirements. Processing requirements.
7. The design of the machine tool conforms to the principle of ergonomics and is easy to operate; the operation panel is designed with visual symbols, which is simple and intuitive.
Technical Parameters
Main technical parameters of horizontal lifting table milling machine
XA6132
XA6132BH
Taper of spindle hole
7:24 ISO50
7:24 ISO50
The distance from the centerline of the spindle to the vertical guide rail of the bed (mm)
30-350
450
The distance from the center line of the main shaft to the suspension beam (mm)
155
155
Spindle diameter (mm)
29
29
The maximum rotation angle of the worktable
±45°
±45°
Spindle speed range (rpm)
30~1500 (18 steps)
30~1500 (18 steps)
Dimension of work surface (mm)
1325×320
1600×320
Workbench stroke (manual/motorized) (mm)

Vertical
700(680)
900(880)
Horizontal
255(240)
255(240)
Upright
320(300)
440(430)
Table feed range (mm/r)

Vertical
18级 23.5-1180
18级 23.5-1180
Horizontal
23.5-1180
23.5-1180
Upright
8-394
8-394
Fast moving speed of worktable (mm/min
Vertical
2300
2300
Horizontal
2300
2300
Upright
770
770
Workbench "T" slot number/width/spacing (mm)
3/18/70
3/18/70
Main motor power (kw)
7.5
7.5
Feed motor power (kw)
1.5
1.5
Dimension of machine tool (length*width*height) (mm)
2294×1770×1665
2294×2050×1665
Net weight of machine tool (Kg)
3200/3300
3400/3500