Band sawing machine is used for sawing various metal materials, system functions are: the hydraulic transmission system is a hydraulic circuit composed of pumps, valves, oil cylinders, oil tanks, pipelines and other auxiliary components,under electrical control to complete the lifting and lowering of the saw beam, the clamping of the workpiece, through the speed control valve can implement the stepless speed regulation of the feed speed,to achieve the sawing needs of different materials of the workpiece.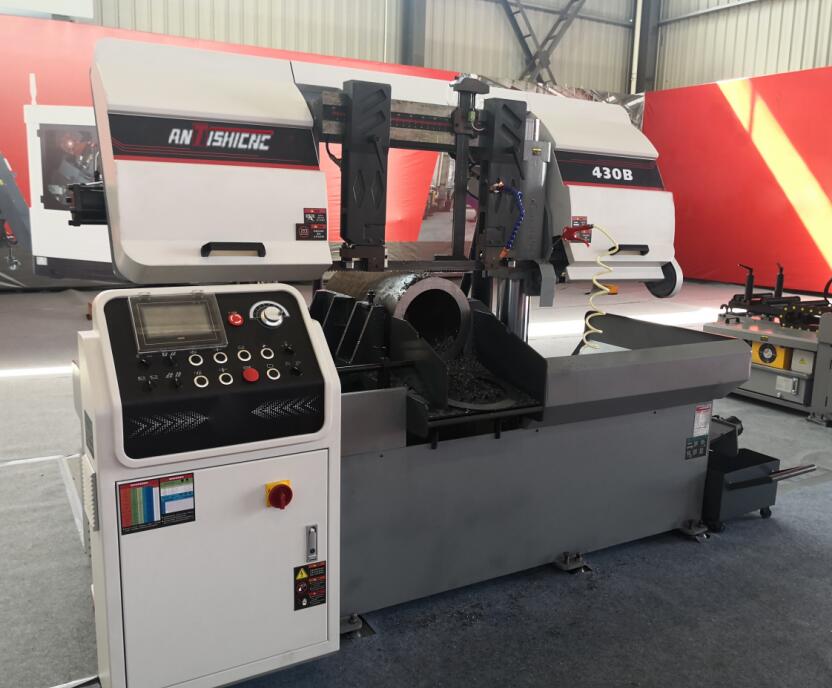 According to the structure, the band saw machine is divided into horizontal and vertical type, according to the function,it is divided into semi-automatic, automatic and CNC. The horizontal type can be divided into double column and scissors, mainly used for cutting carbon structural steel, low alloy steel, high alloy steel, special alloy steel, stainless steel, acid resistant steel and other alloys, also included metal materials. Nowadays, with the development of saw blade technology, ordinary glass, monocrystalline silicon, gem blanks are also gradually into the sawing range.
Shanghai ANTISHI focuses on the road of high-tech innovation, becoming the leader of China's sawing machine industry and the pioneer of the world's sawing machine manufacturing, in the early stage of the establishment of the company, ANTS actively absorb the world's advanced sawing technology, such as Germany, Japan and the United States, focus on the research of sawing processing technology and related processing technology development, committed to the application of new concepts, new thinking and new technology.
The company's main products are CNC sawing machine, Automatic band sawing machine, Metal band sawing machine, Intelligent band sawing machine, High-speed band sawing machine, Automatic sawing machine, Sawing machine saw blade, Intelligent metal cutting machine, Metal circular saw machine, Blanking machine, Metal sawing and other equipment. ANTS products trusted by customers, exported to the United States, Germany, Italy, India, Thailand, Russia and other more than 20 countries and regions, and establish a sound sales channels and service network in many countries, also, in the domestic industry, ANTS with rich experience, excellent manufacturing, professional service and other outstanding characteristics.
Shanghai ANTISHI band sawing machine has the characteristics of high stability design, high rigidity structure, high efficiency sawing, one key intelligent operation and so on, at the same time, ANTS use Japanese drivers, NEC Corporation, German electric, Taiwan rail, Japanese bearings and other configuration components, and each sawing machine is equipped with a large number of optional accessories, to help users work easily and efficiently.
Shanghai ANTISHI Band Sawing Machine has the function of of automatic clamping, automatic feeding, saw frame rise automatically and quickly after cutting( withdraw function) through mechanical, electrical and hydraulic cooperation. Because of its cutting tool use imported thin sheet bimetallic band saw blade, so the incision is narrow, and less consumables, less power required, stable operation, It is popular cutting tool with material saving for large and medium-sized enterprises or institutions to cut large steel embryo and large die steel embryo. Meanwhile, their structure is reasonable, easy to use and maintenance, it is a high matching value  equipment for sawing various metal materials,widely used in mechanical and electrical, metallurgical, automotive, bridge, shipbuilding and other industries.
Shanghai ANTISHI has developed and manufactured more than 100 kinds of semi-automatic and automatic sawing machines, its strong technical force, excellent production equipment, advanced production technology, highly qualified staff team and perfect after-sales system have laid a solid foundation for the success of Shanghai ANTISHI to the world.
If you want to know more about ANTISHI, please visit our official website.
Our website:http://www.antsmachine.com
If you have any other questions, please contact us directly by email.
Our email: Contact@antsmachine.com