Circular sawing machines can be divided into metal circular sawing machines and woodworking circular sawing machines according to the processed products. According to the feeding method, it is divided into vertical, horizontal and scissors. According to the control method, it can be divided into manual, semi-automatic and fully automatic. And equipped with special material racks as required.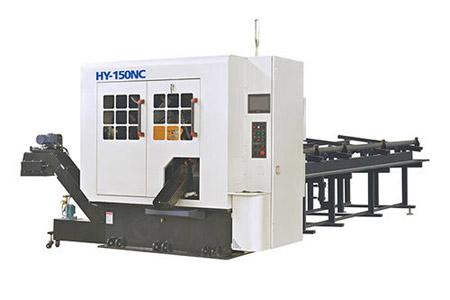 Among them, the control interface of the automatic circular sawing machine adopts the operating system developed by HMI technology based on PLC, which is usually equipped with a touch screen and an operation panel. Using the man-machine interface, as long as the operator inputs the parameters such as the specification and size of the material, the processing quantity, etc., the system will automatically adjust the complex parameters such as the speed of the saw blade, the amount of feed per tooth (cutting speed) and other complex parameters according to the input parameters. In order to provide the operator with the easiest way to operate. This type of RSA cutting has high safety and generally works in a fully enclosed state. It can automatically stop and alarm when a fault occurs, which can avoid casualties and equipment loss, and at the same time, the processing efficiency is very high,also with high control precision and fast cutting speed. The central operation of the fully automatic circular saw machine is completed automatically, the staff can use it after a short training, and it is controlled by PLC (no CNC program or other special expertise is required)
Based on the high-end machine tool manufacturing industry, Shanghai ANTS has continuously improved the core technical capabilities of independent research and development and production processes. Since its establishment, it has obtained a number of invention s and utility model technologies, and has developed a series of CNC high-end metal material cutting machine tools. The company has always taken innovation as one of the core competitiveness of the enterprise, through continuous innovation, to provide customers with more valuable and competitive products, is committed to becoming the world's leading machinery manufacturer. Shanghai ANTS strive to build the enterprise into a first-class set of intelligent, scientific and technological, automation in one of the machinery manufacturers at home and abroad.
Shanghai ANTS is committed to the equipment research and development, production, sales and after-sales service of alloy circular saw blades, band saw blades and high-speed metal circular saw machines. The products are exported to Japan, South Korea, Thailand, Canada, the United States, Singapore, India, Russia, and Poland. , Turkey, the Philippines, Brazil, Argentina and more than 10 countries and regions.
Shanghai ANTS has always pursued high-quality products and services, strict quality management system and strong R&D capabilities are our solid backing. We regard customers as partners and strive to provide equipment solutions for different customers.
Shanghai ANTS strive to provide customers with a full range of services, including design, development, mass production, equipment installation and after-sales service, ANTS not only provides products, but also provides comprehensive after-sales service and technical support.
If you want to know more about ANTS, please visit our official website.
Our website:http://www.antsmachine.com
If you have any other questions, please contact us directly by email.
Our email: Contact@antsmachine.com