CJM250 CJM280 CJM320B CJM360 Mini Lathe Machine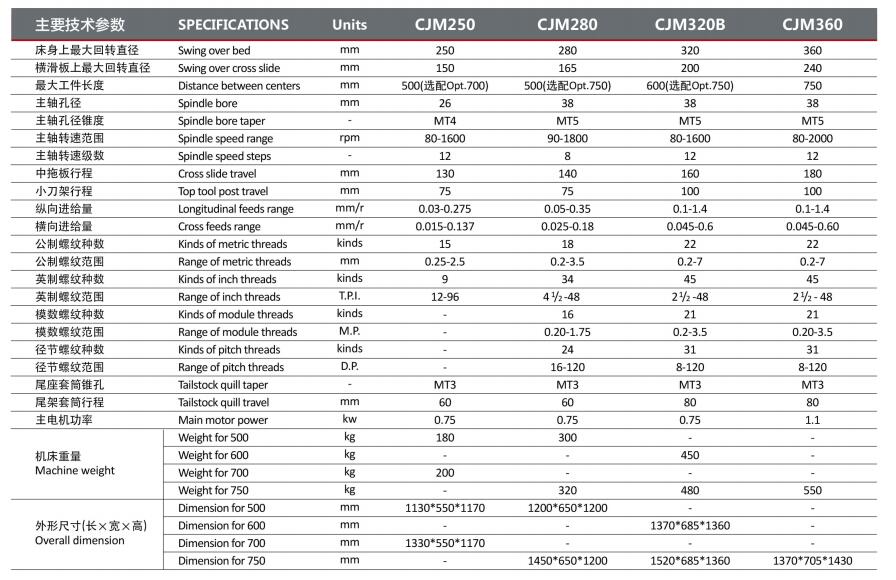 Product description:
1.Most economical,widely useful hobby lathe.
2.Power longitudinal feed allows threading.
3.V-way a depot double triangle and rectangle side way.
4.Easy access to safety switches.
5.Spindle is supported by precision tapered roller bearing.
6.Head stock be gear drive power.
7.Large MT4 spindle bore.
8.High precision chuck.
9.Induction cuts with cross & longitudinal power feed
Product features:
1.The machine adopts full gear drive, double rod operation, no need to replace the hanging wheel can meet the needs of a variety of different kinds of knife and a variety of pitch.
2.Vertical and horizontal feed adopts interlocking mechanism, safety is good.
3.The machine tool uses two mountains and two moment rail, high frequency quenching, high accuracy, high rigidity, good abrasion resistance.
Get The Required Product Quotation As Quickly As Possible
If possible, Given detailed request helps to gain better-matched customized solution. Thanks for your patience. your request will be responsed within 1 hours, kindly pay attention to your email please.