Item
Specifications
WXK630×2000
Unit
Machine tool use
Machining trapezoidal threads

Machining workpiece gauge

grid

Workpiece length specifications
2000
mm
Maximum milling length
1500
mm
Machining workpiece diameter range
400-630
mm
Screw rotation
arbitrary

Bed

High-strength overall bed
Bed width
1100
mm
Bed rail type
Four rails

Cyclone milling head

Milling head motor
Inverter motor
Milling head motor power
11.0
Kw
Rated speed of milling head motor
1500
r/min
Milling head reduction ratio
1:5
Maximum cutter diameter
360
mm
Cutter shaft diameter
Φ60 (key 14)
mm

Tailstock

Tailstock spindle diameter
Φ 130
mm
Maximum stroke of tailstock sleeve
100
mm
Tailstock sleeve mounting taper hole
Mohs 6#
Number of servo control axes
Workpiece rotating bedside
C axis
Bed saddle
Z axis
Slip board
X-axis
GSK control system
25i

C axis

C-axis motor
30
Nm
C-axis drive type
Worm gear
China
C-axis transmission ratio
1 :60
C-axis speed
0-25
r/min
C-axis chuck specifications
K72-400-A28
China

X-axis

X-axis motor
18
Nm
X-axis ball screw specifications
5010
China
X-axis guide rail sub-type
55° dovetail

Z axis

Z-axis motor
30
Nm
Z-axis ball screw specifications
6310
China
Z-axis bed saddle rail sub-type
Mountain rail + flat rail

Chip removal machine

Type
Chain plate type
Cooling water pump for chip removal machine
High pressure water pump

Electrical system

Air switch
Delixi
Contactor
Delixi
relay
Delixi

Power parameters

Three-way five-wire system
Three firewire + zero wire + ground wire
voltage
380
V
power
28
Kw
Machine tool dimensions
(4500+ 1500) ×2000×2100
Machine weight
≈9.0
Ton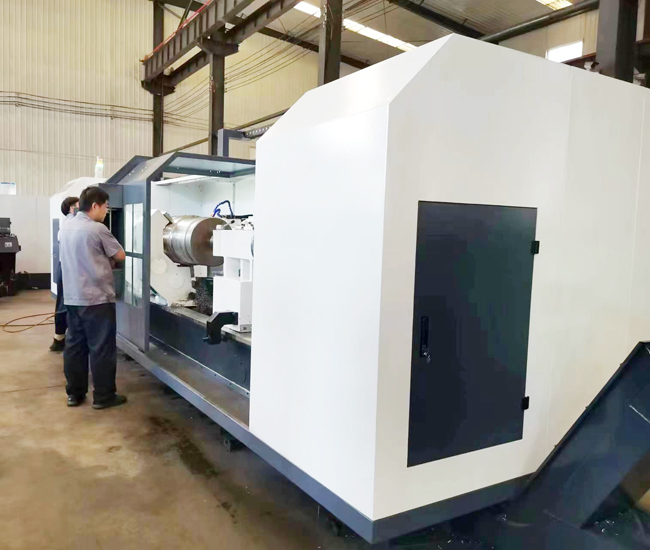 Features:
1. The machine tool system using GSK system.Forming knife processing.
2. The machine tool adopts four guide rails, which have high rigidity and good wear resistance.The bed saddle guide rail adopts a 55° dovetail guide rail, which has high positioning accuracy, fast moving response, and no crawling phenomenon at low-speed feed.
3. The lubrication of the machine tool guide rail adopts a centralized intermittent special lubrication pump for lubrication, and the lubrication is timely.
4. The feed shaft [Z-axis, X-axis] adopts precision ball screws, which are driven by servo motors, with high transmission accuracy and good positioning accuracy.
5. The C-axis of the main shaft of the headboard adopts servo motor + worm gear structure.The spindle is equipped with a four-jaw chuck to facilitate the correction of the workpiece.
6. The machine tool is equipped with an external cyclone milling head, and the milling head motor adopts a high-power frequency conversion motor.The outer cyclone milling head adjusts the angle through the worm gear structure and locks it manually.(The outer cyclone milling head is equipped with an angle meter to ensure the angle of the cutter)
7. The machine tool is equipped with a support frame.
8. The feeding method of the tailstock sleeve is manual feeding, which is convenient for disassembling the workpiece.The movement of the tailstock is manually locked by mechanical feed.
9. This machine tool is equipped with a chip removal machine to facilitate chip removal. The chip removal machine is equipped with a high-pressure water pump, which realizes the lubrication and cooling effect through forced cooling during processing.
10. The electrical components in the machine tool electrical control cabinet are all made of Delixi brand.
11. The machine tool is equipped with a fully enclosed protective cover.
12. Machine tool color, machine tool gray. Two kinds of white.

Standard Equipment
| | | |
| --- | --- | --- |
| No. | Name | Brand |
| 1 | CNC system | GSK |
| 2 | bearing | Harbin |
| 3 | Four-jaw chuck | Global |
| 4 | Ball screw | Bot |
| 5 | Worm gear | Dekai |
| 6 | Milling head motor | Shanghai haoqi |
| 7 | Chip removal machine | Yanshan |
| 8 | Machine tool protection | Yanshan |
| 9 | Electrical parts | Delixi |