Feature:
BK5018 is a brand new enterprise design and development product. BK5018 CNC vertical metal slotting machine has the functions of cutting surface, forming surface and keyway. It adopts the well-known CNC system at home and abroad, which can realize full-screen editing in Chinese. The main drive adopts a crank mechanism, and the two-stage speed is reduced by a multi-speed motor. The X and Y axes are controlled by a servo motor, which can realize the stepless speed regulation function. The X ball screw is directly connected to the motor, and the Y ball screw and the motor are driven by a synchronous belt.
According to the configurable CNC indexing head or CNC turntable, the machine has powerful functions and can process keyways in different directions.
BK5018 CNC vertical metal slotting machine has strong power, good rigidity, large precision storage capacity, high cost performance and long life. It can be widely used in machine tool, automobile manufacturing, various electromechanical, aerospace and other industries. In short, this slotting machine is an ideal equipment for processing keyways of various materials.
1. This CNC gear shaper mainly adopts the KND CNC system, and the worktable only moves on the Y axis.
2. The gate dovetail is improved to a linear guide rail.
3. The Y-axis guide rail is transformed into a linear guide rail.
4. The CNC system can control the cutting speed and the main motor
Servo motor is used.
5. The Y-axis screw mainly adopts twin screw preloading
6. The perpendicularity of Z axis and Y axis ≤0.025mm.
7. Y linear encoder (Sino) amplifier display.
8. Reserve the turntable communication interface.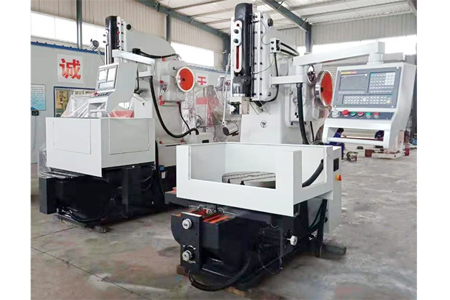 Major Technical Parameter
Unit
Specification
Max. Cutting Length of Ram
mm
180
Adjusting Travel of Ram
mm
80
Strokes of Ram Motion
n/min
45/60/90
Worktable Size
mm
600X320
Worktable Travel(X &Y)
mm
460X320
Distance of Tool Head Bearing Axle to Column Fore-arm
mm
400
Distance of Tool Head Bearing Hole End to Worktable
mm
480
X Motor Torque
(N.M)
6
Y Motor Torque
(N.M)
6
Rapid Movement
X(m/min)
5
Y(m/min)
5
Ball Screw(X)
FFZD3205-3/P4
Ball Screw(Y)
FFZD3205-3/P4
Main Motor
KW
1.5/2/2.2
Standard accessories:
Slotting Machine
Testing oertificate
Operation manual
Inner hexayen spanner
Hexagon nuts style I grades A
Eyelet bolts
Flain washers-grade A
Double end panner
Single end spanner