Metal band sawing machine detailed description:
1. Pulley feeding device, high-precision saw belt pulley.
2. When the sawing is completed, it will automatically stop and raise the saw frame, which is convenient for high-efficiency operation.
3. The load of the saw band can be adjusted to ensure that the band saw is not fatigued and the feed speed can be changed steplessly, and can be adjusted to a better cutting effect.
4. When cutting, the sawing machine can fine-tune the cutting speed according to the material structure to protect the saw blade and effectively improve the service life of the saw blade
5. Cursor positioning, easy to set sawing size.
6. Hydraulic tension saw blade (easy to operate and improve work efficiency
7. Automatic stop when saw blade breaks (safety)
8.Random accessories: a saw blade (imported), a feeding rack, a set of supporting tools, and a set of instruction manuals.
Metal band sawing machine is a machine tool for sawing various metal materials, mainly divided into horizontal band sawing machine and vertical band sawing machine.
The main components of metal band sawing machine are: bottom seat; bed body, column; saw beam and transmission mechanism; guiding device; workpiece clamping; tensioning device; feeding frame; hydraulic transmission system; electrical control system; lubrication and cooling system.
Metal band sawing machine is mainly used for sawing various metal materials such as carbon structural steel, low alloy steel, high alloy steel, special alloy steel and stainless steel, acid-resistant steel.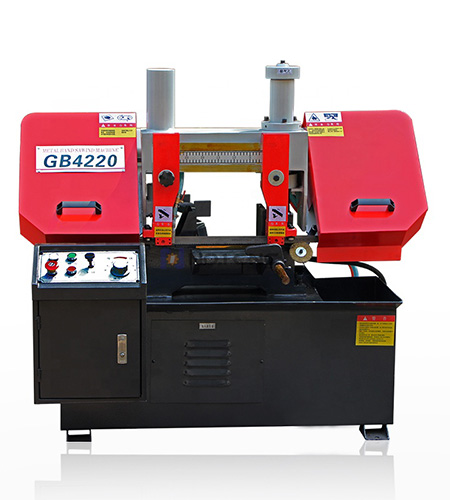 Metal band sawing machine structure:
1. Hydraulic control of cutting speed, stepless speed change
2. The structure of the guide block is scientific and reasonable, which prolongs the service life of the saw blade
3. Double column structure, stable operation
4. Stable sawing and high precision
5. The work clamping adopts hydraulic clamping, which is easy to operate.
GB4220 metal band sawing machine parameters and specifications
Cutting range (mm)
200-200×200
Saw Band Specifications (mm)
2650×27×0.9
Band saw wire speed (n/min)
27.45.69
way of working
手动
Main motor power (kw)
1.5
Hydraulic motor power (kw)
0.42
Cooling pump power (kw)
0.04
Dimensions (mm)
1400*800*1100
Sawing speed and sawing efficiency reference table
| | | |
| --- | --- | --- |
| cut material | Nickel bar progress speed | sawing efficiency |
| Low-carbon steel.Bottom carbon alloy steel | 90-45 | 80-50 |
| Medium Carbon steel.Medium carbon alloy steel | 75-35 | 70-40 |
| High-carbon steel.Nickel Molybdenum Steel.Silicon manganese steel | 55-35 | 50-30 |
| Stainless steel.Alloy Tool Steel | 50-20 | 40-20 |
| hardened stainless steel | 48-18 | 25-10 |
| Nickel alloy | 33-11 | 20-10 |
| Titanium alloy | 18-15 | 20-10 |
| cast iron | 90-45 | 80-50 |
| non-ferrous metals | 90-45 | 80-50 |
After-sales service of metal band sawing machine:
Thank you very much for purchasing our products among the many sellers. In order to protect your legitimate rights and interests and relieve your worries, we will make the following warranty service commitments to you in accordance with relevant regulations:
When the product has a brand at the time of delivery, the model does not meet the order requirements, or the product has a quality problem and it has not exceeded 30 days, the faulty machine should be replaced according to the customer's requirements (you can only choose the same machine for replacement. brand model).
Free maintenance within two years (except for human factors).
Due to product quality problems such as aging of components, our factory can provide maintenance services. The cost of maintenance materials and labor costs will be charged to customers according to the actual price.
Note: Please follow the instructions for use. No matter how high-quality products are, they also need your careful maintenance.
Metal band sawing machine logistics instructions:
Since the machine tools are oversized and overweight items, courier and logistics companies generally do not pick them up, so they need to use the distribution station to distribute vehicles. The distribution vehicles are usually dedicated vehicles. They travel between the two places for a long time. It is convenient for loading and unloading of customers, and one-stop direct access to ensure the safety of goods, but this method has poor timeliness. Time, according to the different cities, general popular cities can deliver goods every day, and unpopular cities may take 3-5 days. Comprehensive consideration, safety, convenience, timeliness, and car distribution is a common choice for machine tool transportation, so customers can buy with confidence.