With its high quality and high price, vertical machining centers are widely used in processing planes, bevels, keyways, keyways, grooves and drilling, reaming, boring, etc. in the world.
Taiwan original milling head and three-axis Taiwan lead screw ensure that our milling machine performance is better than other products.
The motor bracket and the screw support bearing seat are integrally cast, and the super-long assembly contact surface makes the bracket and the base tightly connected, so that the screw movement has higher rigidity and stability.
High-strength casting technology is used to design the high-strength casting process foundation, column, headstock, cross slide table, worktable and other parts. The structure of this machine is very stable. Through machine tool dynamics and finite element analysis, the casting shows a reasonable geometric composition.
CNC milling machines are generally packed in fumigated wooden pallets, which is convenient for customers to transport or load and unload.
Main configuration & accessories:
1. Resin sand casting, Meehanite HT-300;
3. X, Y, Z rails adopt stainless steel telescopic cover;
4. Roller type linear guideway from Taiwan
5. Ball lead screw from Taiwan
6. Standard with belt driven spindle, optional for direct driven spindle;
7. Taiwan pneumatic cylinder;
8. Taiwan ATC, umbrella type and disc type are available;
9. Import bearings for leadsrews;
10. Import coupling;
11. Headstock Nitrogen balance system as option;
12. Full enclosed cover;
13. Rigid tapping;
14. Spindle center ring blast;
15. Work lamp;
16. Pilot lamp;
17. USB and Internet interface;
18. Manual pulse generator (MPG);
19. Centralized automatic lubrication system.
20. Cooling system.
21. Heat exchanger for electrical cabinet ;
22. Leveling blocks & bolts;
23. Toolbox and tools;
24. CNC controller: KND,GSK, HNC (China); SIEMENS, FANUC, MITSUBISHI, FAGOR, etc.
Item
Unit
VMC850
Capacity
X axis travel
mm
800
Y axis travel
mm
500
Z axis travel
mm
500
Spindle nose to worktable
mm
150-650
Spindle center to column
mm
550
Leadscrew and guideway size
Leadscrew diameter X,Y,Z
mm
Φ40
Linear guideway width X,Y,Z
mm
35/35/35(Roller)
Worktable size
Worktable Length
mm
1000
Worktable width
mm
500
Max loading capacity
kg
500
Spindle
Spindle taper
BT40-150
Spindle speed
rpm
8000
Main motor power
kw
7.5/11
Feeding system
Fast moving speed (X/Y/Z)
m/min
48/48/48
Cutting speed
mm/min
1-10000
Feed motor power
N/M
12/12/22
Tool Magazine
Capacity
pcs
Umbrella 16
Max tool diameter
mm
100
Max tool weight
kg
6
Max tool length
mm
250
Accuracy
Positioning accuracy
mm
0.008
Repeat accuracy
mm
0.005
Machine dimensions
Length*Width*Height
mm
3000*2300*2900
Net Weight
kg
4500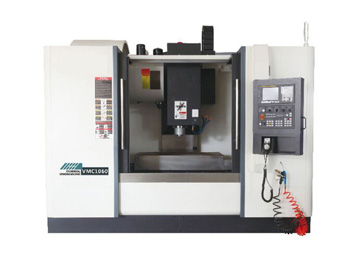 Standard accessories:
Fanuc 0i TF control system
Taiwan Spindle: 8000rpm
X/Y/Z axis: Fanuc servo drive motor
Main motor: Fanuc spindle motor
16 tools Umbrella type
USB for information transfer
Rough cutting of thread
Full closed cover
Automatic lubrication
Heat exchanger in cabinet
3-Axis linear guideway from Taiwan Hiwin
Ball leadscrew from Taiwan Hiwin
Tri-color indication lampCoolant system
Work lamp
Air gunOptional accessories:
Automatic chip conveyor & chip bucket (Chain type)
Automatic chip conveyor & chip bucket (Screw type)
Spindle direct driven, speed 12000 rpm
Spindle oil cooling
Spindle center water spray
24 tools disc type
Nitrogen balance cylinder
Air conditioner for electricity cabinet
4th Axis or 5th Axis