The Metal Circular Saw must have a high rigid structure and high precision control in order to meet the needs of high quality sections. Especially for the preparation of materials before forging, the use of Shanghai ANTS metal circular sawing machine series machines can highlight the sophisticated mechanical design. The six functions of its metal circular sawing machine provide convenience for all walks of life.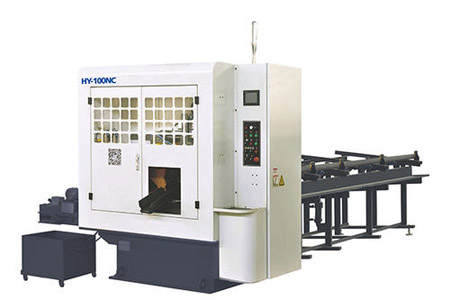 1. The saw blade cutting and feeding system uses a servo motor and rotates with the ball screw to ensure the constant velocity of the saw blade movement and increase the accuracy and stability of cutting.
2. The servo-controlled feeding system can meet the requirements of high-speed transmission of materials and high-precision positioning, to meet the requirements of cutting dimensional accuracy, and to achieve the minimum material loss rate of processing materials.
3. The automatic finished product sorting design can separate the paint from the finished product, and then cooperate with the automatic counting function to facilitate the operator to manage the production quantity.
4. The specially designed saw blade spindle group can absorb the saw blade vibration and prevent the saw blade from bending, and increase its rigidity. Coupled with the unique mechanism for eliminating backlash, it can keep the cutting force stable, greatly prolong the life of the saw blade and improve the processing quality.
5. The metal circular saw uses a touch-sensitive human-machine interface, which is convenient for the operator to set various tasks and use the machine. NC servo control ensures the accuracy and reliability of the cutting product.
6. The automatic feeding system can prepare multiple materials at one time, and with the control system, it can fully meet the needs of one-time setting and mass production.
Shanghai ANTS machine is a company specializing in the development and production of metal circular sawing machines. It is committed to innovation, has a number of invention technology patents, and has developed a series of CNC high-end metal material cutting machine tools. Advanced equipment, high-end product research and development center, exquisite processing technology, scientific and professional production management, strict quality inspection and perfect after-sales service system ensure that the company's product line can meet the different needs of different customers.
If you want to know more about ANTS, please visit our official website.
Our website:http://www.antsmachine.com
If you have any other questions, please contact us directly by email.
Our email: Contact@antsmachine.com