Sawing machine is a kind of machine tool that can cut all kinds of metal materials. It is a necessary production machine tool in the machinery processing factory today. Since China's reform and opening up, sawing machine this kind of goods will gradually enter our country's shopping malls, and agile used by factories, has become one of the most used machine tool varieties in China's industrial production. ANTISHI machine tool is a new era of science and technology innovation enterprise, now has become the elite in the industry.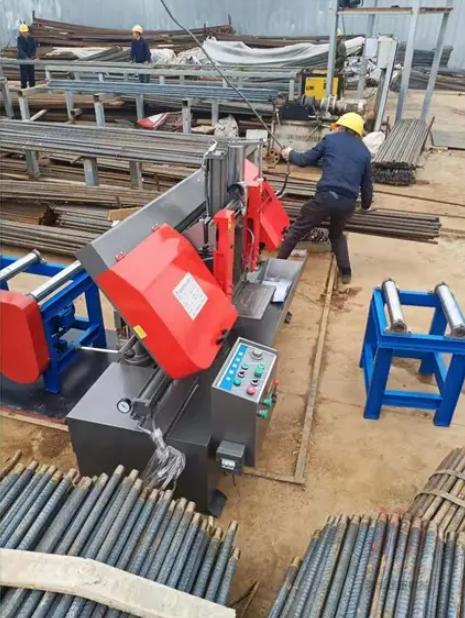 No matter what kind of industrial goods are produced, only cutting metal, it is necessary to use a sawing machine. The characteristics and advantages of this kind of sawing machine is actually very significant, mainly from the following three aspects to summarize the following.
1.Metalworking Industry – Further Development of Precision.
Using leading variable frequency motor drive, fine ball screw drive and laser positioning method, with servo-controlled hydraulic system, the computer actively monitors the entire sawing process online, and the saw blade speed, feed speed, and clamping force can be achieved. Arbitrary settings and optimal combinations can improve the machining accuracy of the sawing machine.
2.Metalworking Industry – Band Sawing Machine Efficiency
Improving sawing power, especially for thick materials and hard metals, to prevent sawing from becoming the bottleneck of the entire production line, has been the focus of many years in the field of sawing and sawing machine technology. It is a trend to expand the sawing scale, and the giant vertical band sawing machine can saw plates and bars up to 10m long.
3. Metalworking Industry -Band Sawing Machine Fully CNC
The cutting process of large workpieces usually lasts for several hours. In order to ensure the production conditions of one person and multiple machines, and to improve the precision and efficiency of sawing processing, the full numerical control of the sawing process is imperative. Networked production, remote diagnosis and protection are the development trends of today's CNC machine tools, and CNC sawing machines are no exception. Networked production can connect the sawing process with other links, improve productivity, and facilitate the company to achieve efficient and unified management of all links. Long-distance diagnosis and protection is the result of economic globalization, which can provide extremely fast equipment protection across countries and regions.
The sawing machine greatly improves the production power of Metalworking Industry, allowing ANTISHI machine to produce more goods at the same time. ANTISHI machine tool commodity functions in the direction of diversification, just the band sawing machine, there are horizontal band sawing machine, vertical band sawing machine, double column band sawing machine, automatic band sawing machine and so on more than a dozen, which are to meet the various needs of users, and in the production technology continues to break, has its own independent technical equipment, More importantly, we produce sawing machine goods in the nature of talent in continuous improvement. Today band sawing machine with its strong production power and amazing sales, in the process of China's industry not only write its own legend, but also for manufacturers to bring greater profits.