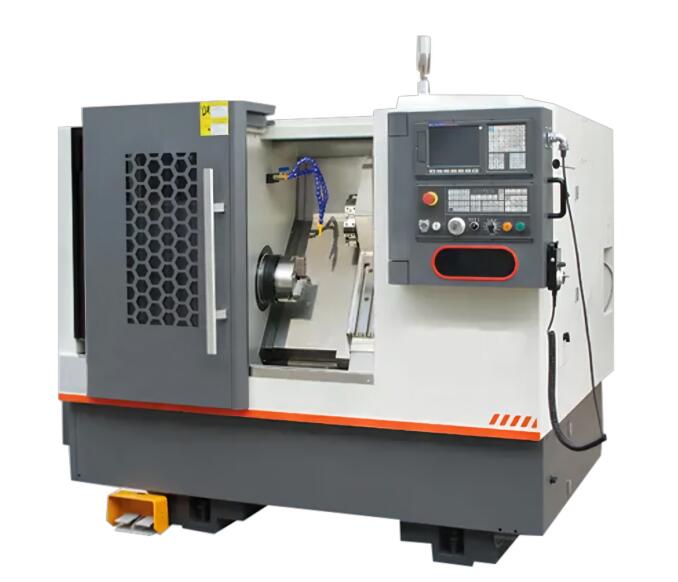 Technical Parameter
Specifications
Unit
TCK50A/500
Max. rotary diameter on the bed
mm
Φ560
Max. swing diameter on the slip board
mm
Φ260
Distance between centers
mm
500
Max. disc processing diameter
Φ400
Max. turning length
mm
500
Spindle end type
A2-6
Spindle through hole diameter
mm
Φ66
The rod material path
mm
Φ55
Oil hydraulic chuck
mm
10 Inch
Through-hole diameter of Hydraulic clamping rod
mm
Φ55
Guide track form
linear guide rail
The cone aperture of the spindle
No
Metric system: 70 1:20
Spindle limit speed
rpm
3000rpm
Tail seat sleeve diameter
mm
70
Taper of inside hole of tail seat sleeve
No
Moss 5 #
Tail seat sleeve trip
mm
80
Tail seat form
hydraulic pressure
Turret post
12 position
The Tool square size
mm
2525´1114 Æ40
Silk bar model
X direction
3210
Z direction
4010
Guide rail model
X direction
RGH35CA 2R680
Z direction
RGH35CA 2R1120
X / Z motor torque
N.M
7.5/10
X / Z fast speed
m/min
18/18
X axis travel
mm
240
Z axis travel
mm
540
Mini. setting unit
mm
0.0001
Power of main motor
KW
11
Total power supply
KW
18
Machine tool net weight
Kg
3000
Overall dimension (L*W*H)
mm
2700*2000*2000
Periodic axial movement of the main axis
mm
0.005
Spindle chuck positions the radial beating of the cone surface
mm
0.005
Positional accuracy
Repeat positioning accuracy A
±0.005
Diameter consistency
0.01/150
Flatness
0.025/φ300
Threaded pitch product error
mm
0.010/100
Surface roughness
Ra
Ra1.6μm
Equipment Introduction
The TCK50Acan process cylindrical surface, cone surface, circular arc surface, cut slot and cut off, and can also process the direct thread, taper thread and so on.
The TCK50AHeavy duty Horizontal metal working turning cnc lathe machine the traditional horizontal lathe layout and the overall design.CNC lathe driven by microcomputer control and servo motor.
Characterized by easy operation, compact structure, beautiful appearance, stable performance, high accuracy and low noise.
The spindle, brake and translocation tool holder of the servo motor, the lathe by sending and receiving signals.
The independent main axis can control the variable frequency motor speed to be infinitely variable speed by inverter, and the feed speed can be arbitrarily set, thus realizing automatic processing controlled by microcomputer.
Spindle adopts high precision rolling bearings, high precision rotary plate aspect to adopt high precision ball screw transmission, good dynamic performance, precision positioning.
The machine tool guide with wear-resistant cast iron and after the audio quenching, the hardness of the HRC45 above, can ensure the long-term stability of processing accuracy.
High rigidity pedestal and  wider lay board are suitable for heavy cutting
The TCK50Acan be operated automatically and manually, with semi-automatic control of knife, tool compensation and gap compensation, equipped with hardware, software limit and other functions.
The lathe can be used to increase hydraulic chuck, and other numerical control system according to user's requirements.
These series lathes operate on power supply of different voltages (220V,380V,420V) and different frequencies (50HZ,60HZ).
Standard Equipment
Name
Specifications
Quantity
Manufacturers
Control system
980TDi
1 set
GSK
Spindle motor
11KW
1 set
CTB
Spindle unit
200-282/5-3V
1 set
GSK
main shaft bearing
NN3020K+MTM100/ NN3018K
Each 1 set
Harbin
Guide rail
X direction
RGH35CA 2R680/725
1 set
HIWIN&PMI
Z direction
RGH35CA 2R1040/1120/1515
Each 1 set
HIWIN&PMI
Ball screw
X direction
3210/703
1 set
HIWIN&PMI
Z direction
4010/965/1052/1429
Each 1 set
HIWIN&PMI
The bar bearing
25TAC62/30TAC62
Each 2 sets
NSK
DOTA
TX -200-8T/TCS-100-8T
1 set
Taiwan, China
Automatic lubrication installation
RBCLB-3ZK
1 set
ANTISHI
Cooling pump
180W
1 set
ANTISHI
Hydraulic pressure station
1.5kw
1 set
ANTISHI
Oil chuck
KT 0-3/A2-6;KT 0-3/A2-8
1 set
ANTISHI
Plambing machine
Chain plate type (optional)
1 set
ANTISHI
List of Documents
No
Name
Quantity
1
Packing list
1
2
Certificate of conformity

(including accuracy inspection list)

1
3
Operating instruction
1
4
CNC system instructions
1
5
Electric knife holder manual
1
6
Frequency converter instruction manual
1
7
Motor instruction manual
1
8
Drive instruction manual
1
9
Oil pump instruction manual
1
More Product Details