1. The main large parts of the machine tool: base, worktable, column, saddle and headstock are all cast with high-quality resin sand.
2. High-strength and high-quality cast iron, with perfect heat treatment process to eliminate residual stress, and place enough reinforcing rib plates to ensure that the whole machine has sufficient strength, rigidity and high stability;
3. Select Taiwan original heavy-duty linear guide rail, with strong rigidity and good dynamic accuracy;
4. The three-axis transmission adopts the grinding double-nut ball screw made in Taiwan, with compact structure, stable movement and high precision;
5. The high-rigidity Taiwan-made spindle is made of lubricating grease, which can make the spindle bearing get constant and reliable smoothness;
6. The base adopts the casting large water pan structure, which has good waterproof performance.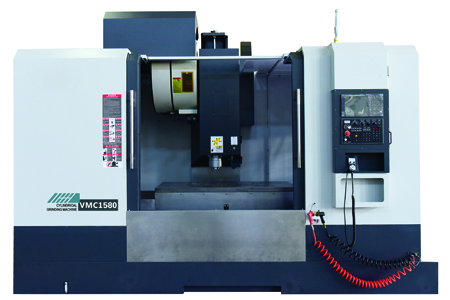 VMC850 vertical machining center standard equipment:
■FANUC 0i MF system
24 tool magazines for manipulators
■Taiwan spindle
■Taiwan track
Choose equipment:
■Beijing KND. Siemens, Taiwan Syntec, Guangshu GSK series , Mitsubishi, Siemens CNC system
■Electrical cabinet is equipped with air conditioner
■Double screw chip conveyor, chain chip conveyor
■The fourth axis, the fifth axis
■Spindle oil cooler
■Spindle center water outlet
Shanghai Antis Machinery Equipment Co., Ltd. is a professional manufacturer in the milling machine industry, specializing in the research and development and production of lifting table milling machines. The company's main products are: X5040 (x53k), X5032 (x52k) vertical lift table milling machine, X6132 (x62w), X6140 (x63w) horizontal lift table milling machine and X6325T, x6330 turret milling machine. Has experienced engineering and technical team and production workers. The machining and assembly workshop covers an area of ​​more than 12,000 square meters. The company has inherited and carried forward the traditional production and manufacturing process, and has a large number of high-quality, precise and specialized gold processing equipment, complete quality assurance system and complete testing equipment. Customers are all over the country. With reliable product performance and sincere service, the company is widely praised by users at home and abroad. Its products have many customers in military industry, shipbuilding, locomotive manufacturing and many other fields.
Welcome to our website: www.antsmachine.com
If you have any questions, please contact: contact@antsmachine.com