Product Description:
This milling machine is a new type of general-purpose bed machine developed by our company. It has reasonable structure, good rigidity and high precision. It has multiple functions such as milling, drilling, tapping, reaming and reaming. It is a mechanical, electronic, and instrumental machine. Ideal processing equipment for industries such as, meters, molds, and automobiles.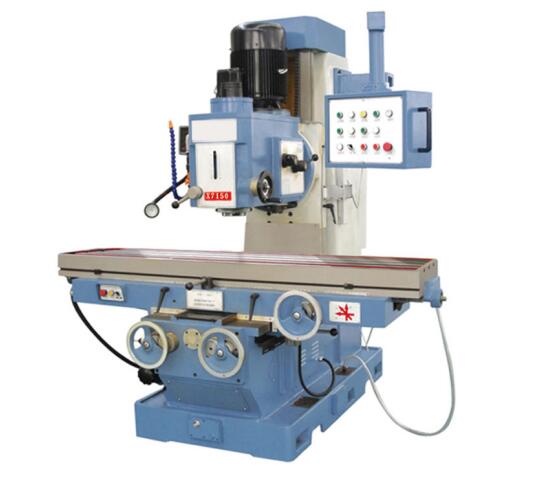 Main structural features:
1. The main components such as the base, the body, the workbench, and the middle sliding seat are all cast from high-strength materials, and are treated with artificial aging to ensure the stability of the milling machine for long-term use.
2. The overall structure is a bed structure. The milling head is a high-power mechanical speed-adjusting milling head with high precision. The milling head can work within a range of 20° from left and right; the feed of the spindle sleeve has automatic, manual, manual fine-tuning, etc. Function: The main shaft has high rigidity, convenient and flexible speed regulation.
3. The headstock can be moved up and down manually or up and down to complete motorized feeding and rapid movement, which is convenient and fast to operate.
4. There are manual feed, motorized feed and motorized fast feed in the longitudinal and transverse directions of the bed. Different feed speeds can meet different processing requirements; fast feed can make the workpiece reach the processing position quickly and shorten the non-processing time .
5. The X-direction stroke of the worktable can reach 1400mm, which expands the processing range of the machine tool. The Y and Z-direction guides are wide rectangular guides, and the X, Y, and Z-direction guides are processed by ultrasonic quenching, precise grinding and scraping With forced lubrication, it can reduce low-speed crawling, improve accuracy, and extend the service life of the machine tool.
6. The lubrication device can forcibly lubricate the longitudinal, horizontal and vertical lead screws and guide rails, reduce the wear of the machine tool, and ensure the efficient operation of the machine tool. At the same time, the cooling system can change the coolant flow rate by adjusting the nozzle to meet different requirements. Processing requirements.
7. The machine tool operating system is hung on the upper right side of the machine tool by a support arm, which conforms to ergonomic principles and is easy to operate; the operation panel is designed with visual symbols, which is simple and intuitive.
8. Optional digital display device.
Technical Parameters:
The main technical parameters
X7150
X7150A
Worktable size (length×width) (mm)
1600×400
2050×400
Maximum stroke of worktable (longitudinal/horizontal) (mm)
1050/500
1500/500
Workbench "T" groove (number of grooves/width/spacing) (mm)
3/18/100
3/18/100
Spindle hole taper
ISO 50
ISO 50
Distance from spindle end surface to worktable surface (mm)
100-630
100-630
Distance from spindle center to column guide surface (mm)
580
580
Spindle speed range (rpm)
20-1600
66-960
Swivel angle of headstock
±30°
±30°
Sleeve stroke (mm)
105
105
Range of table motorized feed (level 18) (mm/min)

Vertical and horizontal:23.5-1180
Vertical and horizontal:23.5-1180
Upright :11.75-590
Upright:11.75-590
Fast moving speed of worktable (mm/min)

Vertical and horizontal:2300
Vertical and horizontal:2300
Upright:1150
Upright:1150
Main motor power (Kw)
7.5
11
Motor power of motorized feed (w)
1500
1500
Cooling pump motor power (w)
90
90
Dimensions (length×width×height) (mm)
2390×1860×2220
2800×1860×2220
Net weight (Kg)
4700
5100