The main shaft of the CNC horizontal milling machine is arranged horizontally and is parallel to the machine tool table. In order to expand the processing range and use functions, 4-5 axis machining is usually achieved by adding a CNC turntable or a universal CNC turntable. In this way, not only the continuous rotating contour on the side of the work piece can be machined, but also can be realized in one installation, and the "four-sided machining" can be performed by changing the station through the turntable.In particular, the universal CNC turntable can place the processing surfaces of various angles on the work piece into a horizontal plane for processing, which can save many special fixtures or special angles.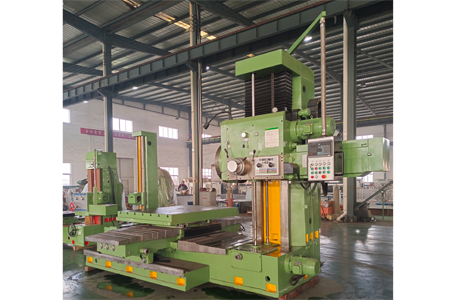 CNC horizontal milling and boring machine is suitable for the processing of rough and fine boring, milling and other processes for processing large and medium-sized parts and box-shaped parts.The worktable is equipped with a 4×90°optical positioning device, which can meet the requirements of turning around large parts.
CNC horizontal milling and boring machine is suitable for box-shaped parts with many processes and plane processing, turning of outer cylindrical surface, cutting of annular groove in holes and tapping of metric and inch threads with taps, etc. It also has the Cartesian coordinate system, polar Coordinate system and technological function of contour machining. Because the CNC horizontal milling and boring machine has high rigidity and closed-loop detection system, it can meet the requirements of rough and fine machining, so the CNC horizontal milling and boring machine is a CNC high-efficiency, precise and general-purpose large-scale machining equipment.
Shanghai ANTS CNC horizontal milling and boring machine has the characteristics of excellent performance, wide processing range, high precision and high production efficiency, as well as advanced transmission mechanism, simple operation interface, and perfect overall appearance, and for the main parts of the machine, the bed, column, spindle, etc. have taken wear-resistant measures, which greatly improves the service life of the machine. Not only that, the technical team of the milling machine machining center can tailor technical solutions for customers, and has a 7*24-hour after-sales team to technically respond to customer requests and free technical training
Shanghai ANTS focuses on taking the road of high-precision scientific and technological innovation, becoming a leader in China's machinery and equipment industry, and a pioneer in the world's machinery and equipment manufacturing. Research the development of processing technology and related processing technology, and commit to the application of new concepts, new thinking and new technologies. The products are deeply trusted by customers and are exported to more than 20 countries and regions such as the United States, Germany, Italy, India, Thailand, Russia, etc., and established in many countries. It has a perfect sales channel and service network, and has the characteristics of rich experience, excellent manufacturing and professional service in the same industry in China.
Shanghai ANTS has strong technical force, sophisticated production equipment, advanced production technology, high-quality workforce and a complete after-sales system, If you want to know more about ANTISHI, please visit our official website.
Our website:http://www.antsmachine.com
If you have any other questions, please contact us directly by email.
Our email: Contact@antsmachine.com