Product description :
1.Main body
The main body and main components are made of high-grade cast iron FC-30. After artificial normalization heat treatment, and then natural aging treatment. The main components are processed by YASDA, MITSUI SEIKI, TOSHIBA, ELB and other world-class equipment in one clamping process. The precision size can reach the micron level to ensure the high precision of the equipment basic components.
2.Spindle system
The grinding wheel spindle adopts FAG high-precision bearings, the front four bearing and the rear two bearing structure, no need to have separate lubrication, simple maintenance, avoid metal-to-metal contact, and can obtain a nearly permanent service life. The grinding wheel spindle has the characteristics of high rigidity and high precision. For special work piece grinding, the grinding wheel speed can be adjusted to increase the linear speed. The spindle is installed in a constant temperature and dust-free workshop, matched with P4 ultra-precision angular contact ball bearings and preloaded. After the bearing and the shaft core are combined, the spindle runout is controlled within 0.001mm, which has the characteristics of low temperature rise, low noise, and low vibration.
3.Transmission system
The left and right movement of the Y-axis adopts a linear motor structure, the maximum driving force can reach 1600N, and it is equipped with high-end high-precision grating scales, with ultra-high positioning accuracy, and the minimum feed can reach 0.0001mm. The X-axis and Z-axis use C1 ball screws, and hydrostatic lubrication can reduce friction and interaction, and increase rigidity and positioning accuracy.
4.Sand repairing device
Two different sand dressing cutters are used in conjunction with three-axis linkage for sand dressing, which can easily realize the shaping and dressing of the end face and outer contour of the grinding wheel.
5.Detail Structure introduction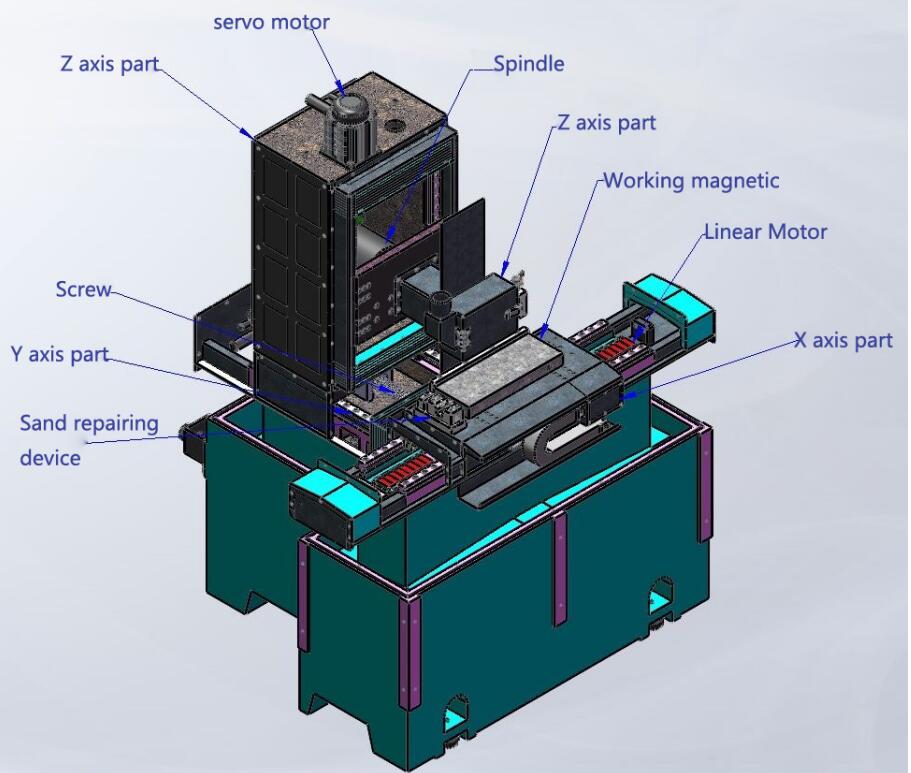 ITEM
Description
UNIT
Data
1
Magnetic table size
mm
150*350
2
Work table size
mm
230*600
3
Moving size of worktable (front and back * left and right)
mm
180*520
4
Left & Right Move(Y-AXIS)
Maximum stroke
mm
520
5
Maximum moving speed
Mm/min
30000
6
Linear Motor
N
MAX.1600
7
Resolution
mm
0.0001
8
Front & back

(X-AXIS)

Maximum stroke
mm
180
9
Maximum speed
Mm/min
12000
10
Servo motor power
KW
1.8
11
Resolution
mm
0.0001
12
Up * Down Move

(Z-AXIS)

Maximum stroke
mm
350
13
Maximum speed
Mm/min
12000
14
Servo motor power
KW
1.5
15
Resolution
mm
0.0001
16
Wheel size (OD * thickness *ID)
mm
(100-205)X(13-19)X31.75
17
Total installed power
KW
10
18
Mechanical lubrication
Timing(Automatic)
19
Dimensions (length * width * height)
mm
1750*1800*2000
20
equipment weight
KG
3500