Technical Specifications
BS–500G

Capacity

Circular
@90°
350 mm
Rectangular             @90°
500×350 mm
Circular
@45°
330 mm
Rectangular             @45°
330×350 mm
Blade size
4180x34x1.1 mm
Motor
3kW,servo motor
Packing size
223x222x170 cm
N.W/G.W
2700/2900 kg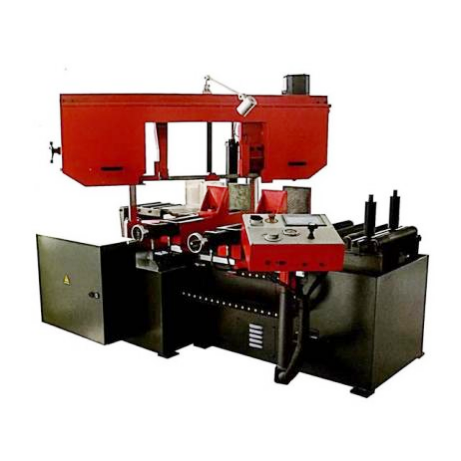 Product Details
This machine tool is a device for sawing metal materials with a bimetallic band saw blade.
It has the advantages of extremely compact structure, fast cutting speed, high precision, narrow sawing kerf, low noise, etc. It is a new type of high-efficiency and energy-saving product replacing circular saws and bow sawing machines. Widely used in electromechanical, metallurgy, automobile, bridge, ship and other industries for sawing various ferrous and non-ferrous metal materials, especially for automatic sawing of long profiles.
Features
●CNC automatic feeding and cutting
●Max. Rotary degree 45°
●PLC control
● With hydraulic clamping vice
● with servo motor for variable saw speed
● Max. single feed distance 500 mm
● with automatic rotary saw bow
| | | |
| --- | --- | --- |
| NO. | Part Description | Brand/Origin |
| 1 | Main motor | China |
| 2 | Hydraulic motor | ELITE |
| 3 | Turbo box | BX |
| 4 | Electromagnetic valve | YUEYU |
| 5 | Transformer | CHNT |
| 6 | Contactor | CHNT |
| 7 | Small relay | CHNT |
| 8 | Combination switch | CHNT |
Standard Equipment of the machine
1. Blade cleaning brush.
2. Working light
3. Saw frame height selector gauge
4. Out feed with auxiliary plate table
5. One piece of bi-metal saw blade.
6. One set of tools with tool box
7. Roller table 8M long
8. Direct gear transmission
9. Electronic variator (Inverter) for drive saw blade speed
10. Hydraulic side gripping jaw and a hydraulic upper jaw for cutting bundles
11. Hydraulic saw blade tension control