U Series Universal Cutter Grinder
| | | | |
| --- | --- | --- | --- |
| Model number | U1 | U2 | U3 |
| Maximum chuck size | ф18 mm | ф18 mm | ф18 mm |
| Maximum grinding diameter | ф100 mm | ф100 mm | ф100 mm |
| Tool-holder longitudinal travel | 140 mm | 140 mm | 140 mm |
| Tool-holder longitudinal fine-tuning stroke | 18 mm | 18 mm | 18 mm |
| Spindle grinding wheel travel stroke | 6 mm | 6 mm | 6 mm |
| Grinding Cone angle | 0°-180° | 0°-180° | 0°-180° |
| Grinding Back angle | 0°-52° | 0°-45° | 0°-45° |
| Grinding Reverse cone angle | 0°-26° | 0°-26° | 0°-26° |
| Grinding wheel speed | 5200 rpm | 5200 rpm | 5200 rpm |
| Motor power | 220/380V 50HZ 1/3HP | 220/380V 50HZ 1/3HP | 220/380V 50HZ 1/3HP |
| Packing size | 45*35*36 cm | 45*35*36 cm | 45*35*36 cm |
| Machine Weight | 45 KG | 53 KG | 56 KG |
| Grinding Precision | 0.02-0.03 mm | 0.02-0.03 mm | 0.01 mm |
Product description
The U Series multi-purpose sharpener can be used to grind all kinds of high-speed steel and carbide engraving tools and single-sided or multi-sided tools with semi-round or reverse taper angles. The grinding indexing head can be operated in 24 positions to facilitate grinding any angle and shape, just replace the attachment on the indexing head without any complicated steps to carry out end mills, engraving knives, drills, turning Grinding of knives and ball nose end mills.
Universal knife sharpener is used to grind turning tools, drills, milling cutters, engraving knives and other tools.
Features
The grinding indexing head can be operated in 24 positions to facilitate grinding of any angle and shape, realizing the multi-purpose function of one machine, and saving costs for enterprises and manufacturers who have a variety of tool grinding needs.
The knife sharpener has the characteristics of high grinding precision, convenient installation, beautiful appearance, novel structure, flexible rotating parts, low noise, low vibration, and the knife rest part has bearings, which are durable, wear-resistant and easy to operate.
Special Features of U2 Universal Cutter Sharpener Grinding Machine
Three sets of special accessories are included: drill grinding accessories, turning tool grinding accessories, and end mill grinding accessories.
The main shaft adopts double bearings, with flexible rotation and high precision, and the runout is within 0.02mm. The upgrade U3 model the grinding tolerance is up-to 0.001 mm.
Standard Equipment
Universal cutter grinder,with high precision,easy installation,nice and new structure,flexible rotating parts,low noise and vibration,tool holder with bearing,durable,wear-resistant and easy to operate.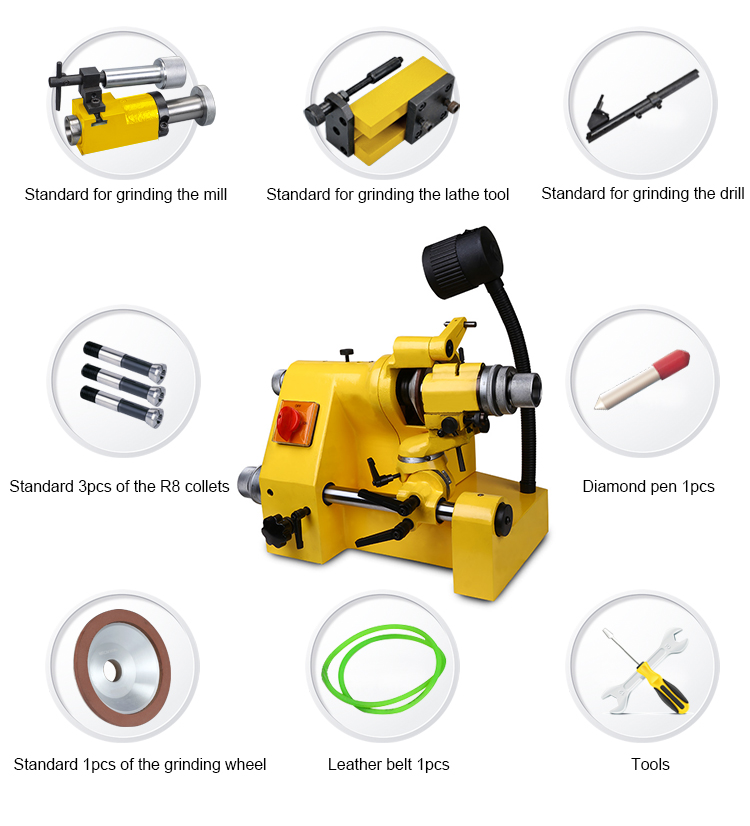 U2 Universal Cutter Grinder Machine Special accessories: (optional)
Turning tool grinding accessories:
High-speed steel and carbide tools can be attached to the attachment, and the tool must be positioned by the attachment's turning tool holder. The locomotive body-like knife body is replaceable and its task is to clamp the knife to the center of the attachment and maintain the desired height.
Drill grinding accessories:
About the grinding of drill bits: grinding the radial plane of twist drills
Drill bit diameter to plane: sharp angle: 118°
Grind-able diameter: 3-8 mm
Accessories for side grinding of end mills:
For end mill grinding, bring a release to turn the attachment to the desired angle. The guide rod moves horizontally, and the positioning can be adjusted according to the diameter of the end mill. The diameter of the collect can be up to 25 mm
Get The Required Product Quotation As Quickly As Possible
If possible, Given detailed request helps to gain better-matched customized solution. Thanks for your patience. your request will be responsed within 1 hours, kindly pay attention to your email please.