Technical Parameter
Technical SPEC
Unit
M3
M4
M5
M6S
Long travel(X)
mm
800 Swallow   guide rail
900 Swallow   guide rail
800

Swallow   guide rail

900 Swallow   guide rail
450(Square guide rail)
450(Square

guide rail)

Cross travel(Y)
mm
450 Swallow guide rail
450 Rectangular guide rail
1000 Swallow guide rail
1000 Swallow

guide rail

Vertical travel(Z)
mm
520 Swallow guide rail
520 (Swallow   guide rail)
500 Square tail rail
500 Square tail rail
T-slot No.and size
mm
3×16×63
Ram travel
600
610
Spindle hole taper
–
Standard :R8
NT40
Spindle Sleeve travel
mm
120
127
Spindle Speed
steps
16
rpm
70-4800
70-4620
Spindle motor
KW/HP
2.2Kw/3HP
3.7Kw
Automatic lifting
–
–
2.9kw
Head swivel
°
90°
Head tilting
°
45°
Dimension of package
mm

1500×1450×2200
1500×1450×2200
1650×1900×2350
N.W/set
KG
1100Kg
1100Kg
1700Kg
Table size

(Standard=S /Big Size=B)

mm/"
254×1270
254×1370
254×1270
254×1370
320×1470
Equipment Introduction
1. Vertical Turret milling machine is compact in structure, small in size and high in flexibility. The milling head can rotate 90° left and right, and 45° forward and backward. The ram can not only retract back and forth, but also rotate 360° in the horizontal plane, thus greatly expanding the machine tool's capacity. Effective working range.
2. Vertical Turret milling machine is made of SC250 cast iron, with strong structure, no deformation and good stability. The main shaft is made of 40 chrome alloy steel. After quenching and tempering heat treatment and precision grinding, it is equipped with a combination of precision-grade beveled ball bearings. It has strong cutting force and excellent precision.
3. The triaxial angle seat nut is made of high-grade phosphor bronze (PBC-2), which has good wear resistance and long service life.
4. The X, Y, Z axis slide-ways are attached with TURCITE-B wear-resistant sheets, which are light in operation, low in wear rate and durable.
5. Equipped with improved electrical box and controller.
6. The spindle can choose R8, NT30/NT40.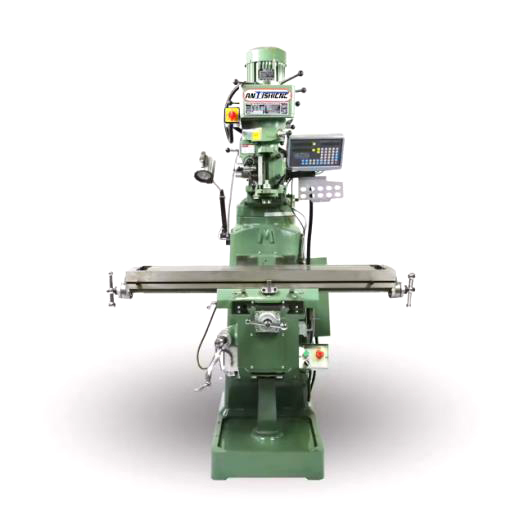 Standard Equipment
Use manual
Tool box
Optional Equipment
DRO
Flat pliers
X Knife Walker
Collect
Platen
Water pump
Water Tray