High speed metal/steel cutting fully numerical control fast aluminum stainless cutting circular saw machine
Introduction to machine tool and supplier parts
1.The machine adopt Mitsubishi control system
2.The main motor11KW Siemens motor motor.adopt Mitsubishi  frequency convert, ensure motor stability and output adequately.
3.Cutting shaft motor adopt 2KW Mitsubishi server motor,feed motor adopt 1.5KW Mitsubishi servo motor,fully equipped with Mitsubishi actuator.
4.Low voltage electric appliance adopt Schneider and Siemens.
5.Adopt 10 inch Mitsubishi touch view screen.
6.Cutting shaft adopt HIWIN roller guide,ensure cutting rigidity.feed shaft adopt HIWIN spherical guide rail.deflection apparatus adopt HIWIN spherical guide rail.
7.Bearing structure adopt  NSK/NTN
8.The gear structure import from TAIWAN.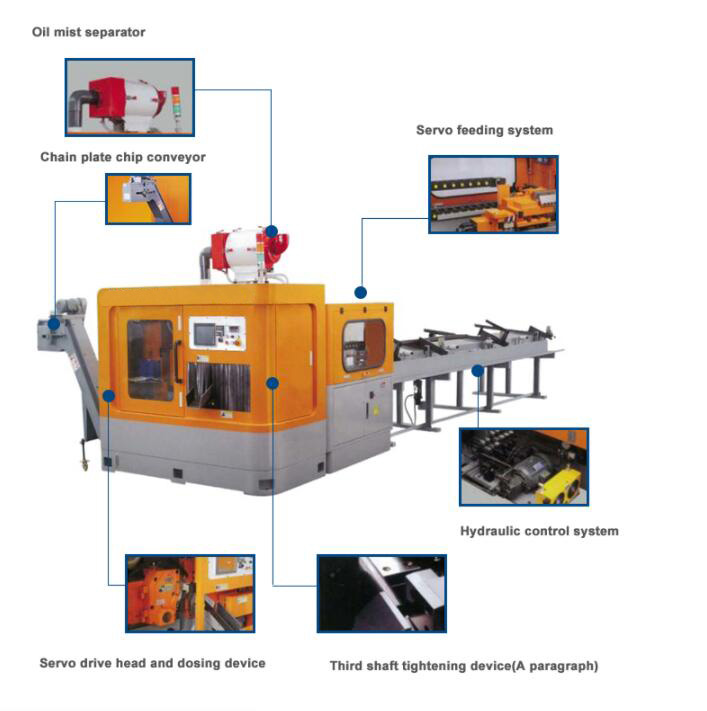 Item

NST-P90

Cutting capacity(mm)

Bar 20-90

Angle material 20-70

Round tube 20-90

Square tube 20-70

Use TCT superhard circular saw blade(mm)

Diameter 360mm  thickness 2.25mm

Pin hole and aperture(mm)

4xdia11xPCD90xdia40

Power of Spindle motor(kw)

11(4p)

Rotate of spindle speed(rpm)

50-160

Cut feed way

AC motor+ball screw/roller linear guide

Main clamp way

Hydraulic type/vertical and horizontal clamping of each group

Saw blade debris removal device

Passive round wire brush/active round wire brush

Gear gap compensation device

Through-type magnetic powder brake

Feeding drive mode

AC servo motor+ball screw

Feeding clamping way

Hydraulic clamped

The material front end removes the length

10-99mm (optional)

Material back-end material length

70mm+α(α is not enough to cut the length of a workpiece)

Single feed cut length

6-780(mm)

Allow the length of the material

2000-6000(mm)

Supply mode

Preload/hydraulic lifting

Hydraulic pump type

Variable plunger mercury

Hydraulic system rated pressure

7 MPa

The power of Hydraulic drive system

3.75kw

Hydraulic oil capacity

90L

Weight of machine (machine+rack)

5000kg

Size of the machine

7000x2710x1689mm

Saw blade deflection shock device

Tungsten carbide parallel block

Dispenser

Pneumatic/reciprocating

Manual concentration of grease lubrication system

Quantitative forced to oil

Tool micro-lubricating system

Quasi-dry intermittent to oil

Chip conveyor

Chain plate type/continuous or intermittent operation

Working lamp

LED waterproof and dustproof

Electric control box heat exchanger

Enclosed high efficiency heat exchange system

Centrifugal oil mist recovery machine

Multi-level filtering,energy saving and environmental protection

Cluster feeding device

The whole bundle of material,long material cutting preferred

The third clamp

The length of material 20+α(α is not enough to cut the length of a workpiece)

Long material to undertake device(discharge device)

A variety of ways flexible choice,can be equipped with robots expected code material
1 This machine is a fully automatic high speed metal circular saw machine, it specially designed for cutting round solid rods and square solid rods,according to customer's requirements for high speed cutting and high precision cutting. Saw cutting off speed:9-10seconds sawing off diameter 90mm round solid rods. cut section roughness :3.2, work accuracy: saw blade flange end/radial beat ≤ 0.02, saw section with workpiece axial line vertical degree: ≤ 0.2 / 100, saw blade repeated positioning accuracy: ≤ ± 0.05, The main parts of Naisite high-speed metal circular saw machine are imported from Japan.
2 Whole fuselage structure adopt QT500 spheroidal graphite cast iron,guarantee rigidity of the fuselage structure.